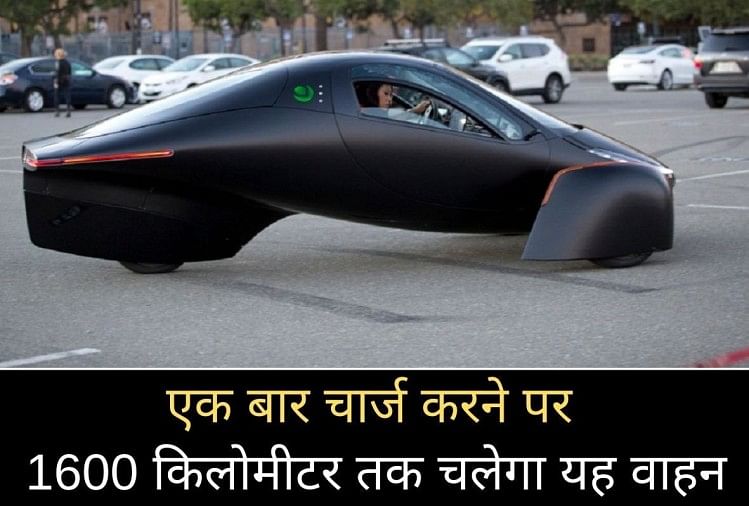 India News
Aptera Motors Has Introduced A Prototype Of Solar Energy Power Electric Vehicle (sev) – This solar electric vehicle, which will run 1600 km on a full charge, will catch 177 Kmph in 3.5 seconds
On December 10, 2020 by admin
Solar electric vehicle from Aptera Motors
– Photo: Social Media
A US-based electric vehicle startup Aptera Motors has introduced a prototype of the Solar Energy Power Electric Vehicle (sEV). The company claims that no charging will be required to operate this three wheel electric vehicle. According to the company, this solar electric vehicle will run non-stop for 1600 kilometers on full charge once. If the company's claim is found to be true, then it will be the highest-range electric car ever. Let us know that even the vehicles of Tesla, the world's largest electric car manufacturer, do not get such range.
Never charge technology is used in this solar energy power electric vehicle from Aptera Motors. If you understand in easy language, this car will get energy from sunlight with the help of this technology. The company claims that in one year this electric car can generate so much energy from the sun that it can complete a journey of up to 11,000 miles. In such a situation, this electric car can be driven even without charging.
Talking about performance, according to the company's claim, it has been given a liquid-cooled electric motor. The car can achieve a top speed of 97 kmph in just 5.5 seconds with a front wheel powertrain. At the same time, through the all-wheel powertrain, it can achieve 177 kmph in just 3.5 seconds. Apart from this, customers will also be able to choose where to install solar panels in the car. Through these solar panels, this car can travel 40 miles daily.

www.amarujala.com