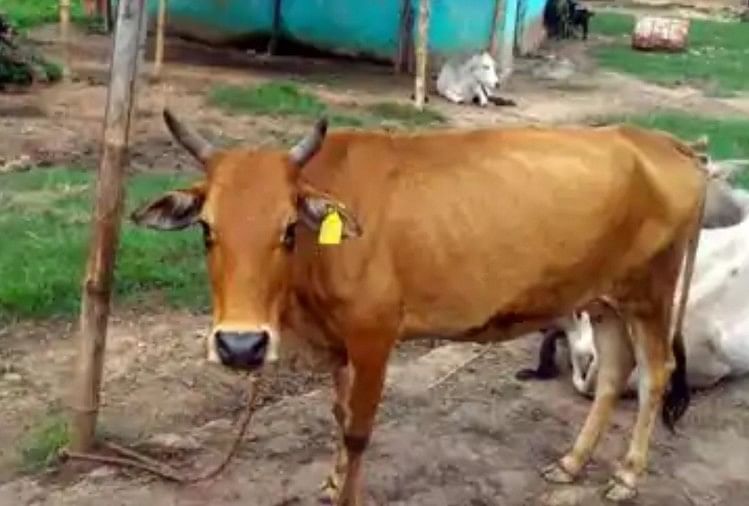 India News
Karnataka: Prevention of Slaughter and Preservation of Cattle Bill 2020 Passed in the State Assembly – Karnataka: Anti-cow slaughter Bill passed amidst uproar, cattle smugglers will fall
On December 9, 2020 by admin
Symbolic picture.
– Photo: Amar Ujala.
The Karnataka Legislative Assembly Prevention of Breeding and Cattle Protection Bill 2020 has been passed on Wednesday. Karnataka Minister KG Madhuswamy said that it is not allowed to kill cows and calves, buffaloes over 13 years of age have been allowed to kill. Illegal sales, transportation and cow slaughter have been made punishable. However, he said that if a cow is suffering from some disease and the disease can spread to other cattle then that cow can be killed. On the other hand, the Congress walked out of the House to protest against it.
Karnataka Prevention of Slaughter and Preservation of Cattle Bill-2020 passed in the State Assembly.

– ANI (@ANI) December 9, 2020
Bill introduced amidst uproar

Earlier, the Karnataka government introduced the anti-cow slaughter bill in the state assembly on Wednesday amidst uproar. BJP sources said that under the 'Karnataka Cattle Slaughter Prevention and Protection Bill -2020', the state has a complete ban on cow slaughter. There is also a provision for strict action against a person found involved in cow smuggling, illegal transportation, torture and cow slaughter. As soon as Animal Husbandry Minister Prabhu Chavan introduced the bill, Congress MLAs led by Opposition Leader Siddaramaiah came in front of the Speaker. He alleged that the introduction of the Bill was not discussed in the meeting of the Business Advisory Committee.
This caused uproar
Siddaramaiah said, 'We had discussed yesterday that new bills will not be introduced. We had agreed that only ordinances would be passed. Now, he (Prabhu Chavan) suddenly introduced this cow-killing bill.
However, Assembly Speaker Vishweshwar Hegde Kageri said that he had clearly stated in the meeting that important bills would be introduced on Wednesday and Thursday. Not satisfied with this answer, Congress MLAs created a ruckus and raised slogans against the BJP government.
Key points of the bill
Provision for the protection of buffaloes below the age of 13 years along with cows and calves
Provision to set up special court for speedy trial against the accused
Provision for opening of cowsheds or cattle houses for the protection of cattle
Police are empowered to investigate for protection of cows and calves
BJP leader advocated
Explain that BJP National General Secretary CT Ravi had recently advocated a ban on cow slaughter. He had said that the ban on cow slaughter in Karnataka would be a reality in the near future. Former Karnataka minister and in-charge of party affairs in Maharashtra, Goa and Tamil Nadu, CT Ravi had said that the law banning cow slaughter would be passed in the upcoming assembly session.
The MLA from Chikkamagaluru said this by tweeting. He wrote in the tweet that I have asked the Animal Husbandry Minister Shri Prabhu Chavan that the Karnataka Animal Slaughter Protection and Cattle Protection Bill be passed in the cabinet and also be introduced in the upcoming assembly session.
Advocates also to make laws to ban conversion
Ravi had also said earlier this month that on the lines of the Allahabad High Court order, Karnataka would enact a law banning conversion for marriage. He said that when jihadis take away the dignity of our sisters, we will not be silent.
Explain that the Allahabad High Court in Uttar Pradesh, in its order of October 31, said that conversion to marriage only is not valid. The court made this remark while dismissing the plea of ​​a newly married couple in Uttar Pradesh, who requested the police and the woman's father to direct them not to interfere in their marital life. The petition stated that the two got married in July this year, but the woman's family members were interfering in their marital life.
read ahead
This caused uproar



www.amarujala.com