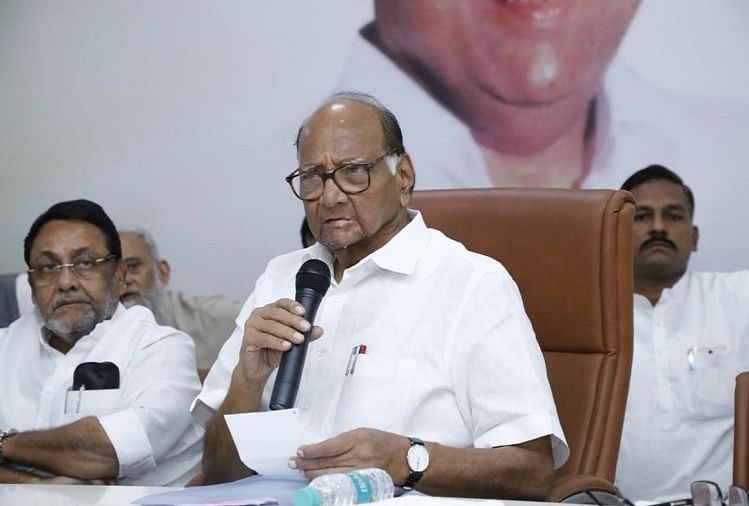 India News
Opposition Parties Will Meet President Today Regarding Agricultural Laws – Kisan agitation: Opposition parties will meet President today regarding agricultural laws
On December 8, 2020 by admin
NCP chief Sharad Pawar
– Photo: ANI
Leaders of the opposition parties will apprise President Ramnath Kovind of their concerns about the farmers' agitation and the bill against the three agricultural laws. Leaders of opposition parties will seek Presidential intervention in the matter. Among those who will meet the President on Wednesday, NCP leader Sharad Pawar, Rahul Gandhi on behalf of Congress and leaders of the Left parties will be included.
CPI leader Sitaram Yechury said that due to the Kovd-19 protocol, only 5 leaders have been allowed to meet the President. Whereas the leaders of various political parties will prepare a collective strategy by discussing agricultural laws before meeting the President.

Pawar's explanation on the letter, BJP trying to divert attention from the issue
NCP chief Sharad Pawar has given a clarification on the letter written to the then Chief Minister of Delhi Sheila Dikshit and Madhya Pradesh CM Shivraj Singh Chauhan, who was the Minister of Agriculture during the UPA rule.
Pawar said, there is no doubt that I wrote the letter. I had demanded a minor amendment to the Agricultural Produce Marketing Committee (APMC), but the APMC is not even mentioned in the BJP government's agricultural laws. BJP wants to divert attention from this issue through this letter.
AAP claims: Kejriwal arrested
During the Bharat Bandh, the Aam Aadmi Party accused the Delhi Police of detaining Chief Minister Arvind Kejriwal. The party said, after meeting farmers on Monday, the police put barricades around the CM residence. At the behest of the Ministry of Home Affairs, no one is being allowed inside nor the CM is allowed to come out.
At the same time, Kejriwal said that if he had not been stopped, he would have gone to support the farmers. At the same time, the police said that the charge of house arrest is baseless. The police is stationed at the CM residence as before. We are not stopping whom Kejriwal is allowing.

www.amarujala.com