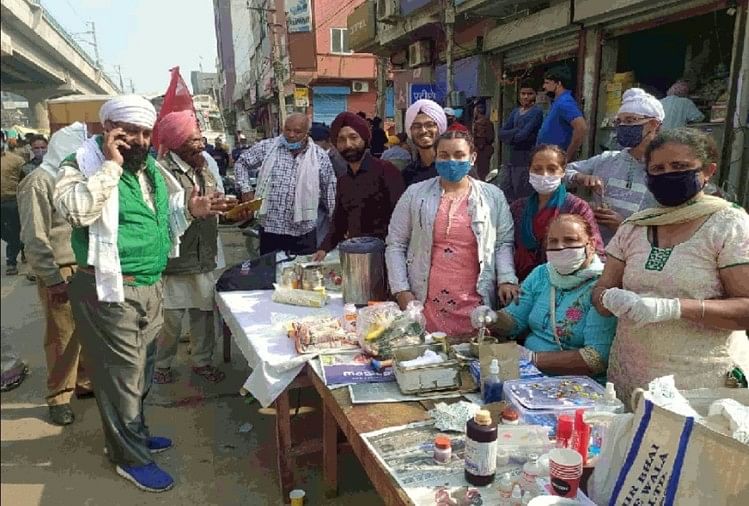 India News
Nearly 50 Percent Of Farmers On The Tikri Border Suffer From Cough Cold And Ear Pain – Tickle Border: Nearly 50 Percent Farmers Have Nausea, Cough, Cold & Ear Pain Problems
On December 8, 2020 by admin
Aditya Pandey, Amar Ujala, New Delhi
Updated Wed, 09 Dec 2020 01:09 AM IST
In the cold season, farmers are fast catching water, cough and cold on the border. A large number of people are also facing the problem of ear pain. Doctors who are providing medical facilities on the occasion say that since the beginning of the Kisan agitation, about fifty percent of the people here have been affected by these diseases. The eldest of them is in the elderly. He is treating hundreds of patients daily and giving them Ayurvedic medicines.
People are also getting immediate relief from Ayurvedic medicines. Inderjit Singh, a doctor of Ayurvedic in Dwarka, is running a free first aid center at the Tikari border since 27 November. Ever since he came here, the number of patients has increased very fast since then. The reason behind this is water, contaminated air and cold in winter. Due to which people are getting fast problem of cough, cough, cold. At the same time, due to noise noises and lack of sleep, the elderly are suffering from ear pain.

Many are ill but not everyone is getting treatment
Manveen Kaur, who is giving volunteer service to the patients, told that farmers are coming to take medicines after walking about two kilometers for treatment. But the line of trains behind is too far. Distant patients are not getting treatment. The patients who are reaching here are being given medicines.
Ayurvedic medicines that are providing relief to farmers
Doctor Inderjit Singh said that he has prepared liquorice, ginger, honey, cinnamon, large cardamom, fennel, powder of powder and extracts for the treatment of cold cough. Which is proving very effective for the people. Along with this, Ayurvedic medicines of Patanjali and other companies are also being given to the patients. People who are getting relief, so other patients are also reaching for medicine.

www.amarujala.com