Highlights:
Farmers' agitation against agricultural law continues on 13th day
Farmers called India off today from 11 am to 3 pm
Meanwhile, video of Khalistani flag waving during demonstration in favor of farmers in Britain goes viral
Khattar has raised Khalistani angle in the farmers' movement
new Delhi
Farmers Protest News continues in India against agricultural laws and today India is closed on the 13th day of the agitation. On the other hand, some videos are also coming from Britain to support the farmers, but the most surprising thing is that Khalistani flags are also being waved in it. After these videos, the intelligence agencies have raised their ears. England cricketer Monty Panesar on Kisan Andolan has also jumped in support of the farmers and is constantly demanding amendment in the law from the Narendra Modi government. In a video by Panesar, people are seen waving Khalistani flags.
Former England cricketer Panesar also jumped – Modi ji change the law, otherwise Singh will let you take rest
Khalistani flag is seen in the video
During the demonstration in support of farmers in Britain, people are demonstrating in front of Indian High Commission carrying the flag. Former England Cricket Monty Panesar tweeted a video. In this video, some people are seen performing for the flag of Khalistan. Explain that during the Kisan movement in India, the issue of Khalistani angle has arisen.
Khalistani issue has arisen many times
Explain that during the Kisan agitation, the matter of Khalistani angle has come up many times. Haryana Chief Minister Manohar Lal Khattar had cited the involvement of Khalistanis in this movement, citing intelligence input.
Khattar had raised the Khalistani angle
CM Khattar had said, 'We have input that some unwanted elements are inside this crowd. We have reports of this. It is not right to disclose it right now. They have directly raised slogans. In the audio and video that have come out, they are raising clear slogans about Indira Gandhi and saying what is Modi when he did this with Indira.
Farmers' India closed, know every update here
Khalistani flags were seen during a demonstration in London
Khalistani is seen waving flags in this video shot in front of the Indian Embassy in London, tweeted by English cricketer Panesar. Panesar has said in this video that the people of England are demonstrating in support of the farmers. But the Khalistani flag in his video is about to raise suspicion. Let me tell you that a few days ago Punjab CM Amarinder Singh met Home Minister Amit Shah and said that there is a need for an early solution to this movement, otherwise it also threatens national security.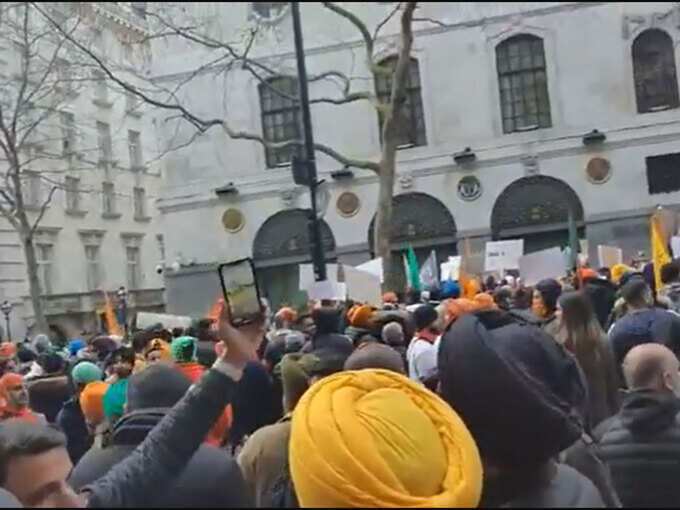 Demonstration in favor of farmers in Britain

navbharattimes.indiatimes.com