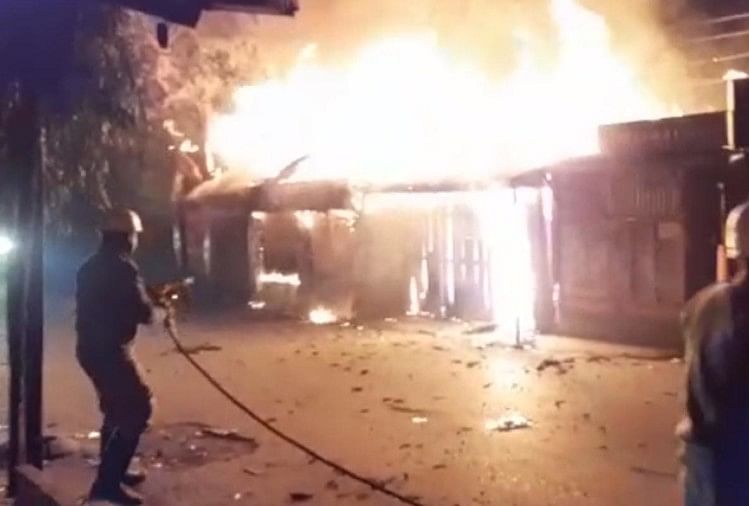 India News
West Bengal Bjp Worker Death Case Handed Over To Cid Wb Police Said He Died Due To Shotgun Injuries – West Bengal Police said – Shotgun shot dead BJP worker
On December 7, 2020 by admin
News Desk, Amar Ujala, Kolkata
Updated Tue, 08 Dec 2020 03:55 PM IST
Symbolic picture
– Photo: ANI
A party worker was killed at a Bharatiya Janata Party rally in Siliguri, West Bengal on Monday. On this, the West Bengal Police said on Tuesday that the BJP worker died in Siliguri due to shotgun firing. The police do not use such a weapon. At the same time, the investigation of this case has been handed over to the CID.
Denying the allegations that the BJP worker was killed in police firing, the state police said that an investigation into the incident of BJP worker being killed at the party's rally on Monday has been handed over to the CID.

Said, armed men were brought to the rally: West Bengal Police said in a tweet, "According to the post mortem report, the BJP worker died due to shotgun wounds. The police do not use shotguns. It is clear that armed people were brought to Siliguri's Monday rally and they opened fire with firearms. "The police said that a person near the BJP worker standing at the protest site opened fire, causing injuries. This is unprecedented. It has not been heard of bringing armed men to demonstration programs and inciting them to shoot.
Soon the truth will be revealed
The state police said the intention was to incite violence by using firearms. The CID will now investigate the case. The police said that the truth will come out soon. Strict action will be taken against those who planned and carried out the heinous crime.
BJP alleges death in police action
However, the BJP condemned the police action, alleging that the police fired on the shotgun during the clashes on Monday afternoon, which led to the death of their worker Ulen Rai.
BJP state general secretary Sayantan Basu said, "Our party worker died due to shotgun wounds. The allegation against us that we had brought armed men is totally baseless and it is being said to cover up the police firing. -Bit murdered. The BJP has called a 12-hour bandh in North Bengal against police action and the death of its party worker.
Officials said the police released tear gas shells and water cannons to prevent the violent protests called by the Bharatiya Janata Yuva Morcha against the Mamata Banerjee government in the city of North Bengal. Several protesters and policemen were injured in the clash.
read ahead
BJP alleges death in police action

www.amarujala.com