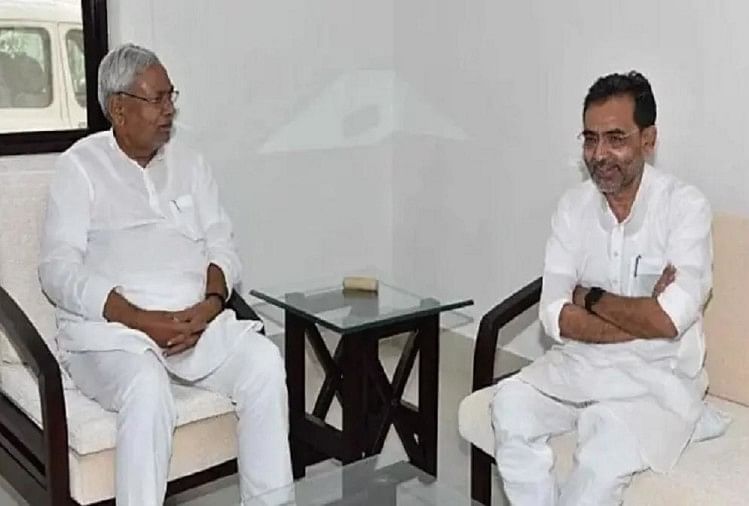 India News
Rlsp Chief Upendra Kushwaha Meets Bihar Cm Nitish Kumar – After RLSP chief Kushwaha met Nitish, discussion of alliance again intensified
On December 7, 2020 by admin
Upendra Kushwaha met CM Nitish Kumar
The RLSP chief and former Union minister Upendra Kushwaha on Sunday termed the speculation that the two would be reunited with the JDU chief and chief minister Nitish Kumar on their meeting four days ago as "untimely guess".
Kushwaha said that these are mere speculations… I do not want a ministerial post or Bihar Legislative Council seat. We had a nice meeting. We discussed the latest political situation. Furthermore, there is no basis for any inference. The RLSP chief further said that Nitish had invited him to talk about the option of working together at his residence.

He said that we accepted the invitation voluntarily. When asked about the possibility of joining hands with Nitish again, Kushwaha said, "There are no such plans right now … but who knows what will happen tomorrow."
Kushwaha, who recently contested the recently concluded Bihar assembly elections by breaking ties with the RJD-led opposition grand alliance in Bihar, aligned with the BSP and AIMIM, led opposition leader Tejashwi on RJD leader Tejashwi Yadav's "personal attack" on the chief minister during the assembly session last month. Took a hand on
JDU state spokesman Rajiv Ranjan Prasad said on December 2, without giving details of Kushwaha's meeting with Nitish, that Kushwaha believes in the same ideology of the ruling party and it would be good if he decides to join hands with us.
There is also speculation in Kushwaha's meeting with Nitish that there may be a merger of his Rashtriya Lok Samata Party (RLSP) with the ruling Janata Dal (United).
There is also speculation about his inclusion in the state cabinet as a member of the Legislative Council.

www.amarujala.com