News Desk, Amar Ujala, Agra
Updated Mon, 07 Dec 2020 12:20 PM IST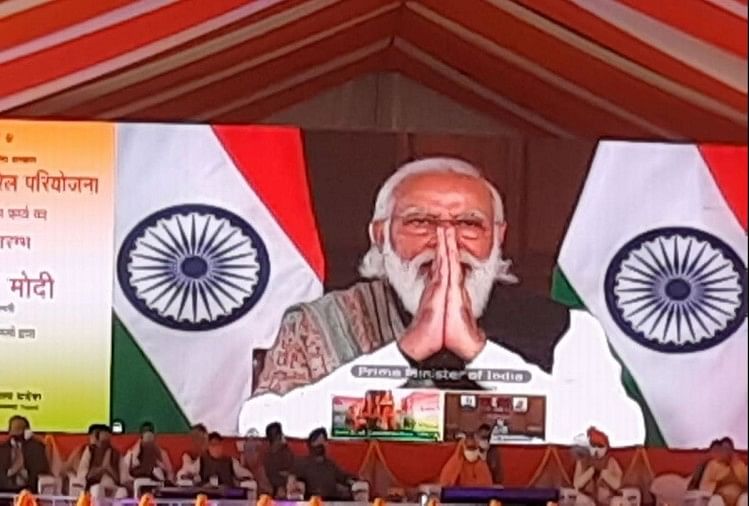 PM Modi laid the foundation stone of Agra Metro
– Photo: Amar Ujala
PM Modi laid the foundation stone of Agra Metro by pressing remote from Delhi. Chief Minister Yogi Adityanath arrived in Agra for the foundation stone of the Agra Metro. Union minister Hardeep Puri also accompanied him. Yogi Adityanath lit the lamp on stage and launched the program. The Agra Metro trial is to be held in two years. By 2025-26, Metro will start running on 30 km long track. A pandal has been built at the PAC ground for the foundation of the metro where people have reached.
Chief Minister Yogi Adityanath said that the historic city of Agra is getting a redesign of public transport as a metro. Today is a very important day for the Agrais. PM Modi will today take Agra towards a new era of public transport.

Durga Shankar Mishra, Central Secretary, Urban Development told the forum that in 2022, when the country is celebrating the 75th birth anniversary of Independence, then a thousand kilometers of metro will be running in the country. One crore people must be traveling in it. Metro work is going on in 27 cities. Rapid rail work between Delhi and Meerut is also going on fast. Agra MP SP Singh Baghel asked Chief Minister Yogi Adityanath to build a barrage in Agra, connect Agra with flights from Delhi, Mumbai, Chennai, Bangalore, Kolkata and create an IT park.
From the stage, Mayor Naveen Jain said that Agra Metro should be extended to Jewar Airport. NOC should be provided to make Paliwal Park like Mysore Park.
The Agra Metro project will cost Rs 8380 crore. 7.31 lakh passengers will be able to travel daily. The speed of Agra Metro will be 80 km / h. Which is more than Delhi and Noida Metro. The cost of a metro coach is eight crores. Each train will have three coaches. Maximum 16 trains will run on the corridor from Kalindi Vihar to Agra Cantt railway station.

www.amarujala.com