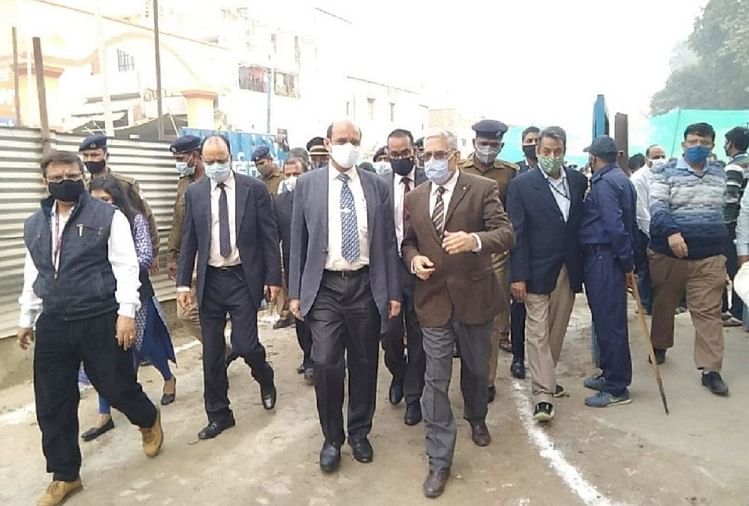 India News
Gm Of Northern Railway Ashutosh Gangal Inspected Ayodhya Station – Ayodhya railway station will be grand like Ram temple, will cost 104 crores, work to be completed by June 2021
On December 7, 2020 by admin
GM inspected
– Photo: Amar Ujala
General Manager of Northern Railway Ashutosh Gangal along with several senior officials inspected the beautification work being done at Ayodhya railway station on Monday. During this, he instructed to complete the development works within the stipulated time. He also held a meeting with MP Lallu Singh, DM Anuj Kumar Jha and senior railway officials for the task of re-modeling.
In this, the review of the development of the ongoing railway projects in Ayodhya was discussed as well as the operation of trains and the introduction of new trains. The general manager also announced to run the Faizabad-Delhi Express which was closed during the Corona period.

During the inspection, GM instructed the executive organization RITES, which is carrying out the re-modeling work of the Ayodhya railway station, to complete the work within the stipulated time. A period of June 2021 has been fixed for this. After this, in a meeting held at Ayodhya railway station, he instructed the construction branch of the railway to expedite the work of doubling the Barabanki-Ayodhya-Zafarabad track and start the construction of Salarpur goods warehouse soon. At the meeting, Ramghat Halt was also instructed to develop the status of full station and include it in Northern Railway, to prepare DPR for Faizabad Junction's renovation and beautification work soon. The meeting also called for closure of the coal depot in Ayodhya from December 15.
At the meeting, General Manager Ashutosh Gangal said that the Faizabad-Delhi Express train, which was closed due to corona infection, will be started soon. So that the problem of movement of Ayodhya residents to Delhi is over. Told that due to the Kovid protocol, trains are being operated for reserve passengers, soon unreserved passengers will also be allowed to travel in the train.
Along with this, new trains will also be operated in a phased manner. It is said that preparations are being made on a war footing to provide world class facilities to the pilgrims, tourists and travelers coming to Ayodhya by the Railways. Under this, dozens of projects are going on, which will be realized in future.
Earlier, he also inspected Faizabad railway station and accident relief train and also performed darshan at Ramlala, Hanumangarhi. Meanwhile, along with General Manager, Divisional Railway Manager Sanjay Tripathi, DM Anuj Kumar Jha, Chief Operating Manager Rajeev Saxena, Chief Commercial Manager Jai Verma Sinha, Chief Engineer Chandraprakash Gupta, Monika Srivastava, AK Lahoti, Rahul Agarwal, Jagatosh Shukla, Ayodhya Railway Station Superintendent MN Mishra and other officials were present.
Ayodhya station will be connected to many religious places: MP
MP Lallu Singh informed that in the meeting, it has been proposed to run a new train connecting Ayodhya to Chitrakoot Intercity train, Ayodhya to Katra Mata Vaishno Devi, Jagannathpuri and Dwarika. Along with this, there has been a discussion about running another new train from Ayodhya to New Delhi and Saket Express train from two days to six days.
The MP said that additional land is needed in the construction and development of Ayodhya Junction. Chief Minister Yogi Adityanath has instructed the officials of the district to provide land to the Railways for this.
Faizabad station will be renamed Ayodhya Cantt
Other railway stations including Faizabad Junction located around Ayodhya will also be developed as per the model of Ram temple. This was said by General Manager of Northern Railway Ashutosh Gangal while talking to journalists in Ayodhya. He said that Faizabad station will also be developed as per the Ram Mandir model, for which DPR is being prepared.
Said that on the proposal of the state government, the name of Faizabad station will soon be changed to Ayodhya Cantt. Told that Ayodhya railway station is being built according to the Ram temple model, in the first phase, re-modeling work is being done at a cost of about Rs 104 crore. It will be completed by June 2021. It was informed that a proposal has been sent to bring Ramghat Halt railway station from Northern Railway to Northern Railway. In the coming time, trains will be run to connect Ayodhya with other religious places.

www.amarujala.com