new Delhi
Farmers are continuously agitating against the new agricultural law. Several rounds of negotiations were held between the farmer leaders and the government but no conclusion was reached. Now farmers have called India off on Tuesday. Farmer leaders have claimed people having any kind of problems during this period. Farmers have called Bharat Band on Tuesday from 11 am to 3 pm, while the Central Government has issued advisory for this.
From farmer movement to Bharat Bandh, understand everything in 10 points
1-
Agitating farmers have called a Bharat bandh on Tuesday to protest against the new agricultural law. In this case, the central government has asked all the states and union territories to tighten security during 'Bharat Bandh' and also ensure peace. This information was provided by officers.
2- Farmer leader Rakesh Tikait has said that success is expected in the entire bandh of four hours as public support is being received. The general public can go to the office before 10 am for duty. Wherever possible, people should close their village on NH under their road. Shopkeepers open shops after lunch.
3- Azadpur mandi of Delhi will also be closed on Tuesday. Mandi Chairman Adil Ahmed Khan said that we support farmers' Bharat bandh. May be due to the closure of the market, prices of vegetables will rise in Delhi tomorrow and there may be problems in getting vegetables.
4- The Confederation of All India Traders (CAT) and the All India Transporters Welfare Association of Transporters (AITWA) have announced to abstain from the 'Bharat Bandh' called by farmers' organizations on Tuesday. CAT said on Monday that markets in Delhi and other parts of the country would remain open during farmers 'Bharat Bandh' on Tuesday against new agricultural laws.
5- Charanjit Singh Lohara from Ludhiana (Pradhan Punjab Transport Association) All India Motor Transport Congress has decided to jam the wheel on 8 December in support of farmers. Transport union, truck union, tempo union have all decided to make the bandh a success. This bandh will take place across India.
Bandh Bharat is our peaceful call, the most appealing thing is not to do it forcefully. Thanks to the political parties who have supported us, they are requested to leave their flag when the farmers come to join the movement:
Farmer leader Dr. Darshan Pal from Singhu border
6- West Bengal Chief Minister Mamata Banerjee said on Monday that the BJP government at the Center should immediately withdraw the "anti-people" agricultural laws or withdraw from power. Addressing a rally in West Medinipur district, Mamta said, 'She will stay in jail instead of tolerating BJP's misrule or remaining silent.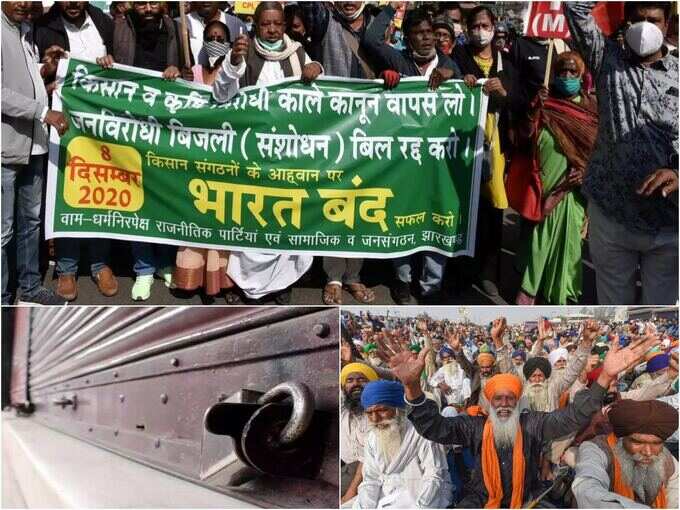 7- Uttar Pradesh Chief Minister Yogi Adityanath (UP Chief Minister Yogi Adityanath) has come into action. CM Yogi has directed all district and police administration of Uttar Pradesh to be vigilant about 'Bharat Bandh'. Along with this, CM Yogi has also questioned the attitude of opposition parties supporting the 'Bharat Bandh' of farmers.
8- Left Front chairman Viman Bose appealed to the people of West Bengal on December 8 against the new agricultural laws to make the Bharat Bandh called by the farmers' organizations a complete success.
9- SP chief Akhilesh Yadav from Lucknow said that Samajwadi Party supports every movement of farmers. Chief Minister, tell me how much paddy has been purchased from the farmers, what price was given for maize and the sugarcane crop is still outstanding for the farmers, when will the government tell it.
10- Gujarat CM Vijay Rupani said that Bharat Bandh is not supported by farmers and APMC in Gujarat. There is no such situation in Gujarat. Tomorrow this bandh will not be successful. The government has also made complete arrangements that no violent incident should happen in the name of bandh.

navbharattimes.indiatimes.com