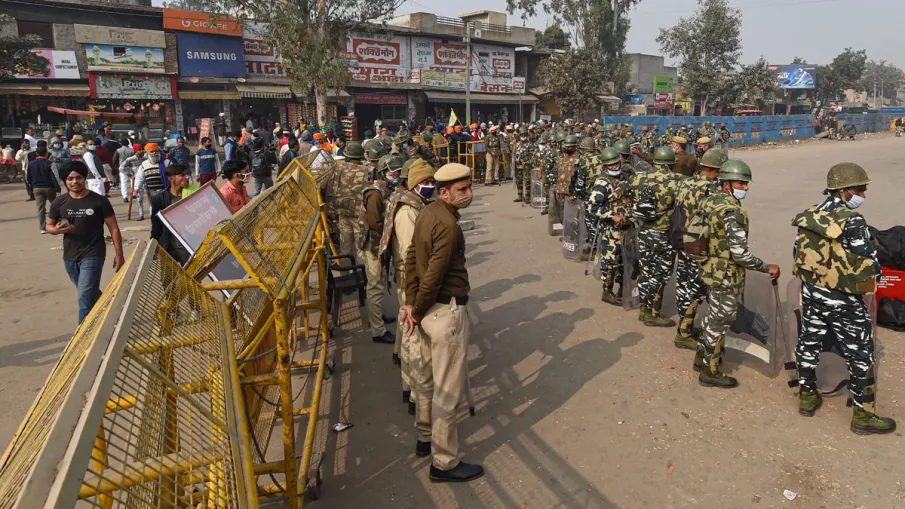 Gurugram | Farmers have called for 'Bharat Bandh' on Tuesday to protest against agricultural laws. Meanwhile, as a precaution on the part of Gurugram officials, security arrangements have been made in the district on Monday. Authorities also plan to issue restrictive orders to prevent any possible untoward incident during 'Bharat Bandh'. ACP (Headquarters) Usha Kundu said that more than 2,000 police personnel have been deployed at sensitive places in the district.
"We have issued an advisory to the police officers concerned to take necessary precautionary measures in view of the call for bandh supported by farmers and various political parties," he said. Kundu said, "The police will issue restrictive orders if needed. The Gurugram police is in touch with their counterparts in Haryana as well as in Delhi and adjoining districts." "All police personnel leave applications have been canceled and strict orders have been issued to report them on time for duty in view of the Bharat Bandh," Kundu said.
Police officers have been asked to intensify patrolling in all sensitive locations, especially areas along the Delhi borders, to prevent loss of life or any property-related damage. Gurugram police has started investigating vehicles again on Monday. To monitor the movement of vehicles and people in Gurugram, barricades have been installed on the highways of the state. A large number of security personnel including senior police officers have been deployed at all sensitive locations. Meanwhile, Gurugram police said that three to four most sensitive places in the district have been identified and security has been tightened there.
"Apart from these places, the police will also keep an eye on the roads connecting the inter-state border areas in view of the bandh on Tuesday," Kundu said. A senior police officer of Gurugram police visited the border areas of the district on Monday to take stock of the preparations. The ACP said, "Gurugram police is on high alert amid protests from farmers. The deployment of police has been increased on all inter-state and inter-district boundaries in the district. Also, rapid action to deal with any untoward situation on the borders Force personnel and additional police personnel have been kept in reserve. "



www.indiatv.in