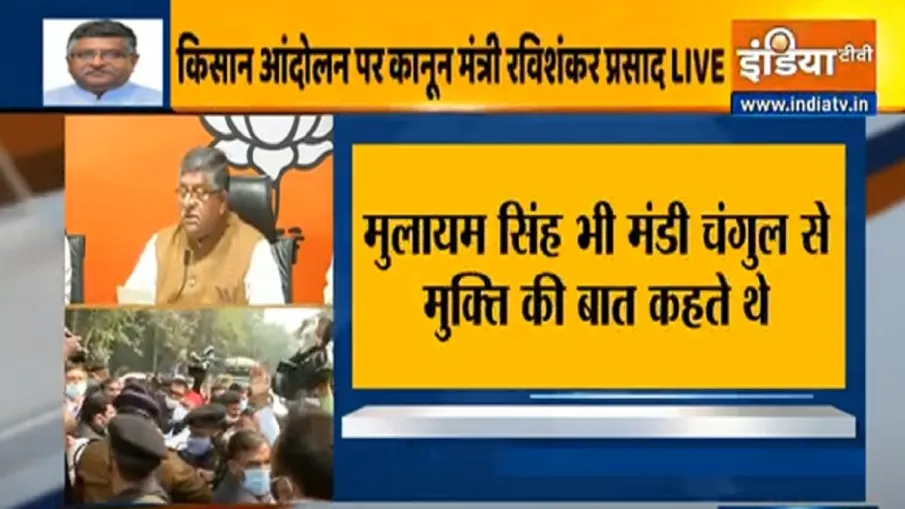 new Delhi. Opposition parties trying to make their politics shine by supporting the bandh called by the farmers have been attacked by the government. Union Law Minister and senior BJP leader Ravi Shankar Prasad attacked the opposition parties strongly in a press conference. He said, "Today, when their political existence is coming to an end, when they lose elections again and again, they join any anti-agitation movement to save their existence, I will accept that the leaders of the farmers movement have clearly said that Leaders of political parties should not come in our movement, but they are stopping all this because they are getting another chance to oppose BJP and Narendra Modi, even though there is no one in the public and no hearing is going on. "
What did Ravi Shankar Prasad say? (Big things)
It is not just about the farmer movement, whether it is the subject of the CAA or the subject of Shaheen Bagh or any other matter, these people stand up, are protesting for protest, forgetting their history and only opposing Narendra Modi Want to
The Congress party had a manifesto for the 2019 elections, which has clearly stated that the Congress will abolish the APMC Act and free the farmers from all restrictions on the export and trade of their crops. The acrobatics of the Congress party should be understood, it is said in English that we will repeat and wrote in Hindi that we will make amends.
When Congress people draft and do not understand the difference between repeal and amendment, they should be outsourced.
There are some statements of Rahul Gandhi, in 2013 he had called a meeting of all his Chief Ministers and said that in Congress ruled states, fruits and vegetables will be delisted from APMC and give pre-choice to farmers.
When the country's senior leader Sharad Pawar was the Minister of Agriculture and Consumer Affairs of the country, he wrote a letter to all the Chief Ministers of the country, in that it was necessary to come from the private sector. Sharad Pawar ji gave an interview to Shekhar Gupta In 2005, the question was, do you see when the APMC Act ends, he said – 6 months. You are a very experienced leader and have been the Chief Minister many times and have been a minister at the Center, claiming reforms, what if you do not call it politics of pure political interest.
Opposition parties are opposing Narendra Modi only to save their existence. Today Mr. Akhilesh Yadav also jumped in the field, the report of the Akhilesh Ji Agriculture Standing Committee has come and your father is also a member in it, he has also clearly stated in that report that it is very important that the farmers be free from the clutches of the mandis If done, Samajwadi Party and Shiv Sena also supported it in the House
At the time of the Congress Party's government, a proposal of the Planning Commission came, the work that we did today was done by Manmohanji's government 8-9 years ago.
Mr. Yogendra Yadav is also standing, does not discuss what his party exists, see his tweet when the completion of 3 years of our government, Modi government is giving up its pursuit of APMC Act and is saying that it is the states subject is. Kejriwal ji notified on 23 November 2020, protesting here and informing.



www.indiatv.in