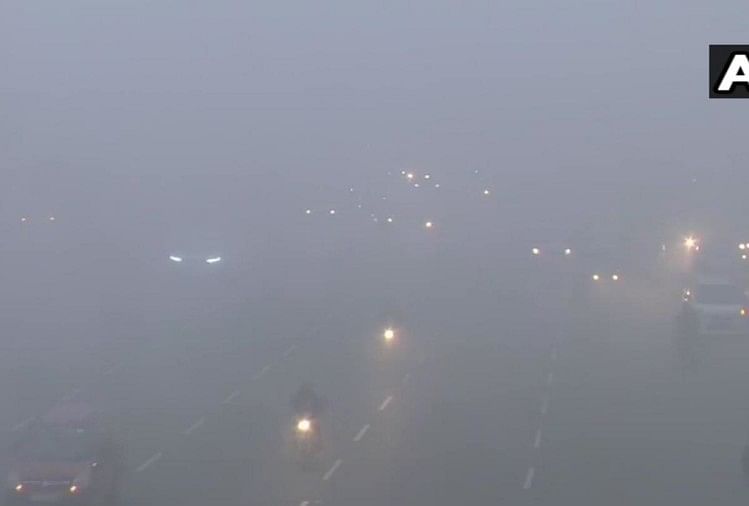 India News
Dense Fog Engulfs Delhi Ncr In Morning Visibility Low, Air Quality Worsen Gets Severe In Many Areas – Delhi-NCR wrapped in thick fog sheet, air quality index in many areas cross 400
On December 7, 2020 by admin
Delhi-NCR wrapped in thick fog
– Photo: Amar Ujala
The morning of Delhi-NCR coincided with dense fog. The fog was so dense that it was difficult to see even a distance. On the other hand, Delhi's air has also become poisonous. The air quality index has crossed 400 in many areas.
On Sunday for the third consecutive day in NCR

Due to the increase in wind speed, there was a slight improvement in Delhi's climate on Sunday, but the atmosphere in Ghaziabad and Noida in NCR remained stifling for the third consecutive day. According to the CPCB, the presence of PM 2.5 and PM 10 elements responsible for air pollution in the five cities of NCR has remained very high. However, experts have expected some relief in the next two days due to the constant increase in wind speed.
Delhi: A thick layer of fog engulfs the national capital; visuals from Dhaula Kuan. pic.twitter.com/MhIWQFRBG7

– ANI (@ANI) December 7, 2020
According to the Central Pollution Control Board (CPCB), Delhi's air quality index (AQI) reached a critical range of 404 points on Saturday due to the accumulation of locally generated pollutants due to the slow wind speed. On Sunday, the national capital's average air quality index was recorded at 389, a 15-point improvement. Earlier, AQI was 348 on Friday, 341 on Thursday, 373 on Wednesday, 367 on Tuesday, 318 on last Monday and 268 on last Sunday.
The PM 2.5 and PM 10 fine dust particles levels in Delhi's air have also been recorded. On Sunday, the PM10 level was 332 and the PM2.5 level was 201 micrograms per cubic meter. The levels were 365 and 217 the day before.
In contrast, air quality in the national capital's neighboring cities Ghaziabad (430 AQI) and Noida (404 AQI) remains in the critical category, while Greater Noida (396 AQI) and Faridabad (392 AQI) are also not far below the critical level. AQI 325 of Gurugram was recorded.
Straw's share in pollution decreased
According to Safar, for the past few days, an equal share is being registered in the pollution of stall smoke. Even on Sunday, only 167 incidents of stubble burning were reported in the neighboring states of Delhi, Haryana, Punjab and Uttar Pradesh. The day before this figure was 296. Due to this, there has been a negligible share of stubble burning in pollution.
Delhi will remain hot, snowfall will occur on the mountains
According to Skymet Weather scientist Mahesh Palawat, Delhi's temperature is likely to be above normal by 10 November. But due to fresh western disturbances, heavy snowfall is expected in the high mountains of Jammu and Kashmir, Himachal Pradesh and Uttarakhand. Its effect can be seen as a cold wave in the plains.



www.amarujala.com