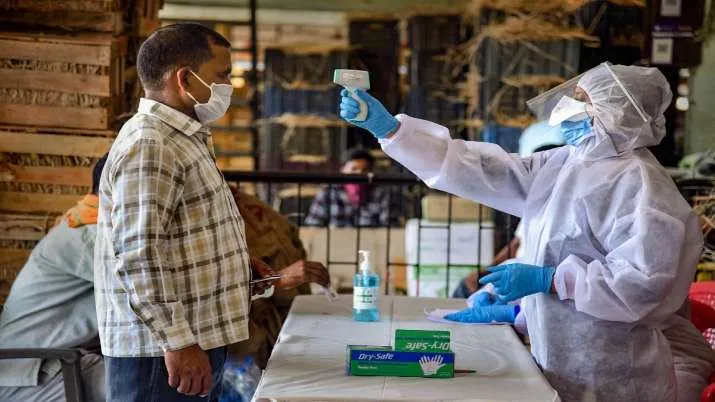 Lucknow: The total number of people who died due to the epidemic increased to 7900 on Saturday, with 23 more deaths from Kovid-19 in the last 24 hours in Uttar Pradesh. At the same time, 1,940 new cases have also been reported during this period. Additional Chief Secretary Health Amit Mohan Prasad claimed that Uttar Pradesh has become the first state to examine more than two crore samples. He said that over 1.67 lakh samples were tested on Friday.
He claimed that such a large number has not been investigated by any state so far. Prasad told reporters that there are currently 22,245 patients of Kovid-19 in the state. Prasad said that with 1,940 new cases coming up in the last 24 hours, the total cases have increased to 5,53,012. In the last 24 hours, 2,230 patients have been discharged from hospital after treatment. Presently, the percentage of recovery from Kovid-19 infection in the state is 94.5 percent.
According to the Health Bulletin, in the last 24 hours, maximum four deaths were reported in Lucknow while two deaths were reported in Kanpur Nagar, Varanasi and Sonbhadra. In the same period, the maximum number of 256 new cases were reported in Lucknow, 225 in Ghaziabad, 141 in Gautam Buddha Nagar, 132 in Meerut and 114 in Varanasi.
At the same time, if we talk about the whole country, according to the Union Health Ministry, on Saturday, 36,652 new cases of Kovid-19 were reported in the country, with total infection cases crossed 96.08 lakh. The ministry said that so far a total of 90,58,822 people have recovered from infection, with the rate of infection-free in the country being 94.28 percent on Saturday. There are a total of 96,08,211 cases of corona virus infection across the country, according to the ministry's updated data at 8 am on Saturday.
According to this, the death toll has increased to 1,39,700 with the death of 512 infected in the country in the last 24 hours. Of the 512 new cases of death, 127 were reported from Maharashtra, 73 from Delhi, 52 from West Bengal, 29–29 from Uttar Pradesh and Kerala, 20 from Punjab, 19 from Haryana, 15 from Chhattisgarh and 13 from Karnataka. The death rate due to Kovid-19 in the country is 1.45 percent.
So far, out of total 1,39,700 cases of infection deaths in the country, 47,599 from Maharashtra, 11,834 from Karnataka, 11,762 from Tamil Nadu, 9,497 from Delhi, 8,628 from West Bengal, 7,877 from Uttar Pradesh, 7,020 from Andhra Pradesh, 4,882 from Punjab and Gujarat. There have been 4,049 cases since.
According to the data, 4,09,689 people infected with Corona virus are being treated in the country, which is 4.26% of the total cases of infection. According to the Indian Council of Medical Research (ICMR), a total of 14,58,85,512 samples were tested till December 4, of which 11,57,763 samples were tested on Friday.
In India, the number of infected had crossed 20 lakh on 7 August, 30 lakh on 23 August and 40 lakh on 5 September. At the same time, the total cases had crossed 50 lakh on 16 September, 60 lakh on 28 September, 70 lakh on 11 October, 80 lakh on 29 October and 90 lakh on 20 November.



www.indiatv.in