India News
Rahul Gandhi par sharad pawar ke comment par bhadaki congress, ab NCP ne di ye saphayi, congress angry at Sharad Pawar's comment on Rahul Gandhi, now NCP gives this clarification
On December 5, 2020 by admin
Highlights:
Controversy over NCP chief Sharad Pawar's remarks about former Congress president Rahul Gandhi
Congress said- Everyone in MVA should follow the basic rules of the alliance
The NCP clarified that his (Sharad Pawar) comment was only 'fatherly leader's advice'
Mumbai
The Congress party has retaliated after a comment made by NCP chief Sharad Pawar regarding former Congress president Rahul Gandhi. Congress leader and cabinet minister in Uddhav government Yashomati Thakur said on Saturday that if the parties of Maha Vikas Aghadi want to keep the Maharashtra government stable then they will have to stop making any wrong remarks on top Congress leaders. To this, the NCP has clarified that his (Sharad Pawar) comment was only 'the advice of a fatherless leader'.
Earlier, Yashomati Thakur tweeted, 'As an executive chairman of MPCC, I should appeal to colleagues in MVA to stop commenting on Congress if you want a stable government in Maharashtra. Everyone should follow the basic rules of the alliance. '

Feedback given on Sharad Pawar's comment
Yashomati Thakur said in another tweet, 'Our leadership is very strong and stable. The formation of MVA is the result of our strong belief in democratic values. ' Yashomati Thakur's response has come from the remarks of Nationalist Congress Party (NCP) chief Sharad Pawar, who questioned Rahul Gandhi's ability as a leader.
Congress angry over Sharad Pawar's remarks on Rahul Gandhi, said- keep Maharashtra government stable
This is the whole case
In fact, in an interview to a newspaper, Sharad Pawar had said that there is a lack of political stability inside Rahul Gandhi. After this statement, Yashomati Thakur, Working President of Congress and Minister of Mahavikas Aghadi Government in Maharashtra said that if you want stable government in Maharashtra then you should stop misinformation on top leaders of Congress. All should follow the rules of the alliance. Maha Vikas Aghadi in Maharashtra has been built on the basis of democratic values.

Shivsena said this
On the other hand, Shiv Sena termed the remarks made on Rahul Gandhi as the direction of Sharad Pawar. Party MP Sanjay Raut said that Sharad Pawar is a very big leader. If a veteran leader like him makes a comment about any politician, it should be considered as his guidance.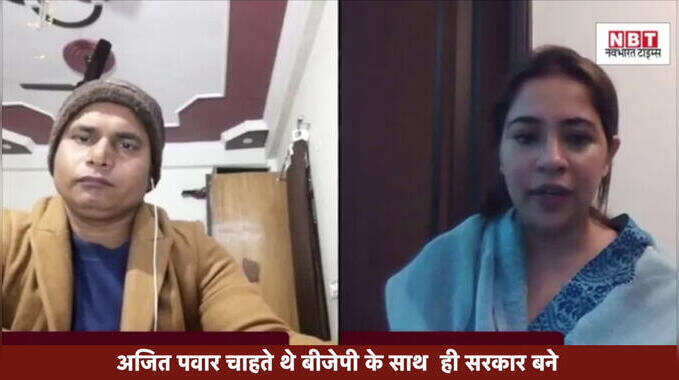 Ajit Pawar wanted to form government with BJP
28 November completes one year of MVA government
In Maharashtra, Shiv Sena, Nationalist Congress Party (NCP) and Congress's MVA government completed their one year on 28 November. It was formed after the 2019 assembly elections. BJP contested with Shiv Sena and emerged as the single largest party. However, the two parties chose a different route due to differences in CM position. Shiv Sena then joined hands with NCP and Congress to form government in Maharashtra.
Status of parties in Maharashtra Legislative Assembly
The BJP had won the maximum 105 seats in the Maharashtra assembly elections held last year. After this Shiv Sena secured 56 seats. NCP won 54 seats and Congress 44 seats.

navbharattimes.indiatimes.com