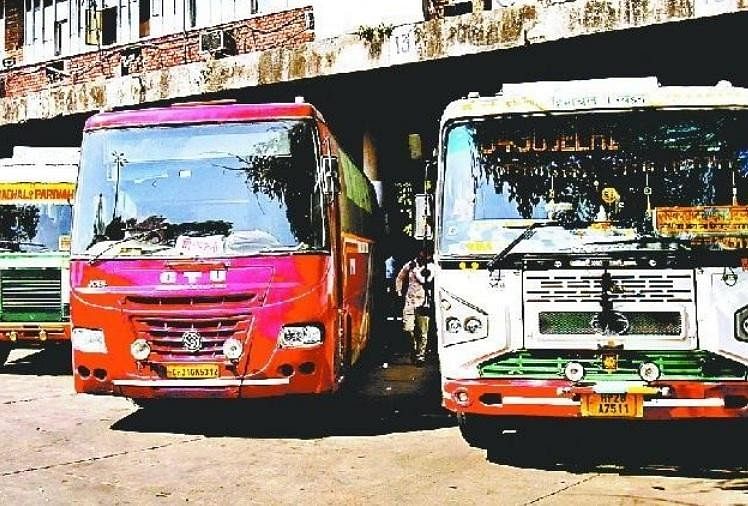 India News
Farmer Protest: Bus Service From Chandigarh To Delhi Stopped – Farmer Movement: Chandigarh-Delhi Bus Service Closed, Volvo Service Also Stalled, Traveler Upset
On December 4, 2020 by admin
Buses not running from Chandigarh to Delhi.
– photo: file photo
The peasant movement has stopped the wheels of buses. Travelers going from Chandigarh to Delhi are upset. Buses are being run from Chandigarh to Murthal and Bahalgarh. From there, one has to take an auto or taxi to Delhi. Volvo service is also closed.
The situation is that before Chandigarh ISBT 17, a bus used to come out of the counter for Delhi and then used to be on the other counter. Now buses are arriving after fifteen to twenty minutes. The clock room is empty. Earlier, usually 50 to 60 people used to come, but now only two-three people are coming.

There are 217 Haryana Roadways buses available for Delhi at different times, but only 60-70 buses are running at this time. Earlier, Corona had stopped the wheels of buses, now the buses are not going due to the ongoing farmer movement in Delhi.
Due to farmer agitation, Haryana Roadways buses are not going to Delhi. Murthal and Balgarh are being run only. After that people can go to Delhi or other places from there on a ride. Whatever travelers come to me, they are explaining this to them. Normal buses are running. Volvo is completely closed. -Rajendra Kumar, Sub Inspector Haryana Roadways
Earlier, 650 buses were used daily from ISBT, but now 400 buses are going. This has also led to a substantial reduction in the base fee. The clock room is empty. In the first days, 50 to 60 people used to come in the clock room, but now only two to three people are coming every day. -Gurdeep Singh, Station Supervisor ISBT Sector-17 Chandigarh
Difficulties have increased for travelers
Came to give paper, now it is difficult to go
Came to deliver papers in Panchkula. Have to go to Narnaul. Now the bus is not available. It is cold weather, what to do, where to go. Can't understand anything. Buses are not running for Delhi.
-India, resident of Narnaul
Housemates are getting upset
I have come to Chandigarh from Narnaul. There is no bus to return now. Will go at night or in the day, nothing is being known. It is getting very difficult. The people of the house are also getting upset.
-Dipesh, Narnaul resident
Only halfway buses are available
Have to go to Morena in Madhya Pradesh. Went to Bilaspur with company work. There is no means to return now. Buses will reach Murthal. After that you have to go to Delhi. It has become very difficult for us.-Kamal Singh, Morena, resident of Madhya Pradesh
Have to go home to attend a wedding
Bhabhua of Bihar has to go. There is a morning train from Anand Vihar. Have to go with family. There is a marriage at home, but now the bus is not running for Delhi. Time is very difficult.
Ganesh Gupta, Bhabhua, resident of Bihar

www.amarujala.com