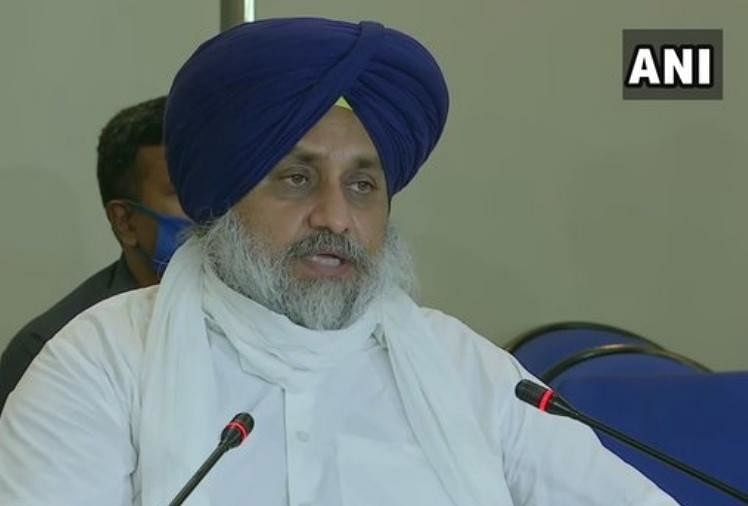 India News
Kisan Andolan: Sukhbir Singh Badal Said, Does Bjp Have The Right To Declare Anybody As Anti-national – Do elderly women look like Khalistanis? How dare you say anti-country: Sukhbir Badal
On December 3, 2020 by admin
News Desk, Amar Ujala, Chandigarh
Updated Thu, 03 Dec 2020 06:29 PM IST
Shiromani Akali Dal President Sukhbir Singh Badal fiercely attacked his old ally Bharatiya Janata Party (BJP). He said that elderly women are participating in the peasant movement. Does the BJP and anyone else have the right to be called anti-national.
Sukhbir Badal said that 'the farmers' movement consists of elderly women. Do they look like Khalistanis. This is the way of calling the country's farmers anti-national. This is an insult to our farmers. How dare he call the farmers anti-national?

Does BJP or anybody else have the right to declare anybody as anti-national? These people (farmers) have dedicated their entire life to the nation & now you are calling them anti-national. People who are calling them anti-nationals are actually anti-nationals: Sukhbir Badal https://t.co/Fz3ZYwxemA

– ANI (@ANI) December 3, 2020
Sukhbir Badal further said that 'Does BJP or anyone else have the right to declare anyone anti-national. The farmers have dedicated their entire lives to the nation and now you are calling them anti-nationals. Those who call him a traitor are actually traitors.
Prakash Singh Badal and Dhindsa returned the Padam Award
The withdrawal of award from Punjab has also started in protest against agricultural laws. Shiromani Akali Dal Patron and former Chief Minister Prakash Singh Badal, followed by Shiromani Akali Dal (Democratic) President and Rajya Sabha MP Sukhdev Singh Dhindsa have also returned their Padma Awards. Earlier, former Punjab Chief Minister Parkash Singh Badal has returned the Padma Vibhushan award from the Government of India. Badal says that he is hurt by the central government's dealings with the farmers.
Harsimrat resigns from Modi cabinet
Explain that Akali MP Harsimrat Kaur Badal resigned from the Modi cabinet only due to the agricultural laws. After this, Shiromani Akali Dal President Sukhbir Badal opened a front against the central government. However, after some time, the Akali Dal also broke its ties with the NDA.



www.amarujala.com