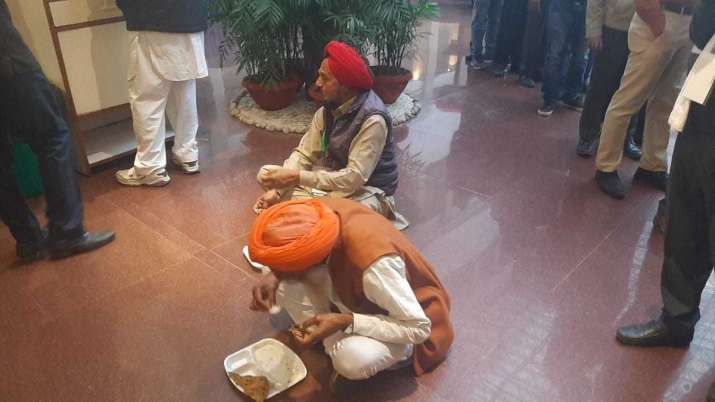 India News
Farmers' groups say no to govt food, arrange own lunch at Delhi's Vigyan Bhawan – talks with government on new agricultural laws, meeting came for farmers to eat food from Singhu border
On December 3, 2020 by admin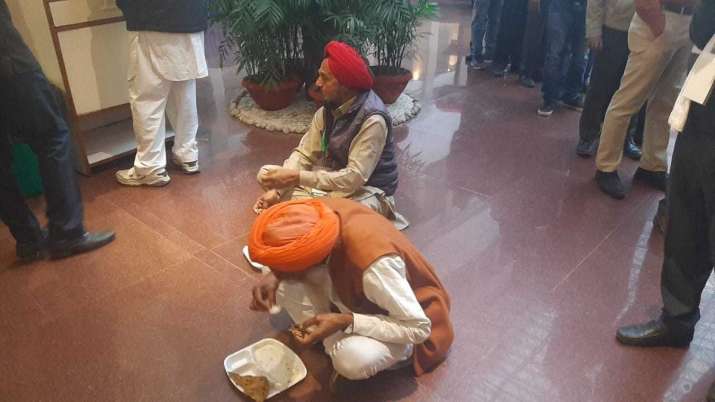 new Delhi: Today is the eighth day of the farmers' agitation against the agricultural law. On one side, the farmer leaders are meeting with the government at Vigyan Bhavan and on the other side there is a continuing agitation of farmers at different borders all over Delhi. Representatives of farmers are talking with the government at Vigyan Bhawan in Delhi. There was also a lunch break during this marathon meet. During this time, the peasant leaders did not approve of the government.
The leaders reached the Kisan Vigyan Bhawan with their lunch. Farmer leaders ate the lunch they had brought during the lunch break. A farmer leader said, 'We are not accepting food or tea given by the government. We have brought our own food. ' They did not drink tea together on 1 December. Farmer leaders boycotted the Modi government's tea this time too.
Meanwhile, the farmers' movement continues for the eighth consecutive day. Delhi has different border seals and farmers are protesting on the streets. The protesting farmers said that the central government should call a special session of Parliament to repeal the new agricultural laws and if the demands were not met, the roads in the national capital would be blocked.
Let me tell you that there was a 4-hour conversation between the government and the farmer leaders on Tuesday and in the conversation it was decided that on Thursday, the farmers should draw a blueprint of their issues of displeasure, the same issues are being discussed today. CM Amarinder Singh and Amit Shah met between 10:30 AM while the Agriculture Minister is meeting with 35 farmers' organizations at Vigyan Bhavan from 12 noon.
Meanwhile, the Bundelkhand Farmers Union said on Thursday that the current agitation would be intensified if the government does not withdraw the three controversial agricultural laws by convening a special session of Parliament. Vimal Kumar Sharma, national president of the Bundelkhand Farmers Union, said, "All the three new agricultural laws passed by the central government are anti-farmer. This will not benefit the farmers, but they will be forced to commit suicide.
He demanded that the government immediately call a special session of Parliament to withdraw the three disputed agricultural laws and set up an 'Agriculture Commission', which would consist only of agricultural scientists and farmers. Sharma said that "About 500 farmers from Bundelkhand are traveling in Delhi in private vehicles from GIC grounds of Banda city late this evening. The agitation will be intensified if the central government does not announce the withdrawal of these disputed laws." . "
He alleged that the district administration of Banda is making efforts that the batch of farmers did not reach Delhi and was also trying to divide the farmers. He alleged that in this regard the district administration has been trying to 'intimidate' by calling on Wednesday night.



www.indiatv.in