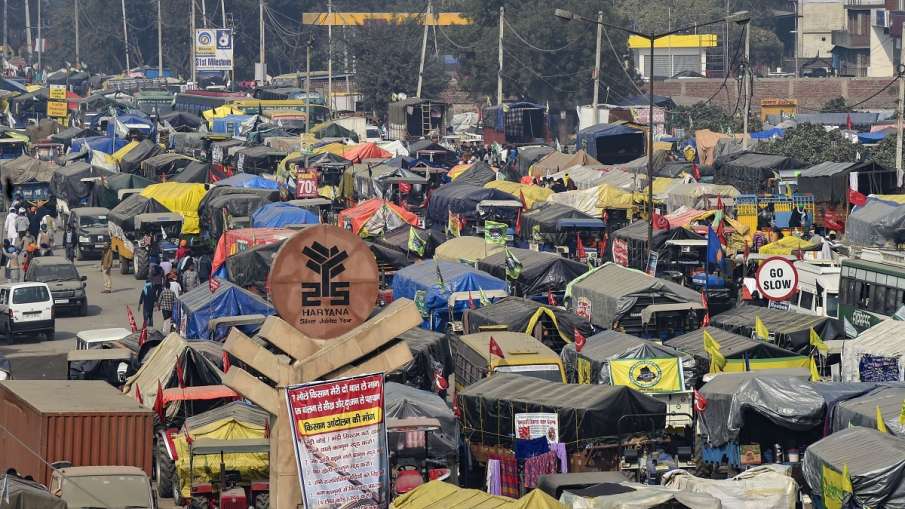 Sonipat The agitation of farmers on the borders of Delhi continues for the eighth consecutive day on various demands. A large number of farmers from Punjab and Haryana have been demonstrating continuously on the Singhu border. In view of the danger of Corona epidemic, Sonepat district administration has decided to conduct farmers' Covid test. DM of Sonepat has said that Kovid-19 test will be conducted for the farmers sitting on the Singhu border.
Call special session of Parliament to repeal agricultural laws: farmers told government
The agitating farmers said on Wednesday that the Central Government should call a special session of Parliament to repeal the new agricultural laws and that more roads in the national capital would be blocked if demands were not met. Addressing the press conference, Chairman of the Revolutionary Farmers Union, Darshan Pal, alleged that the Center wants to show the protest as a Punjab-centric movement and is working to divide the farmers' organizations.
He said that representatives of farmer organizations from other parts of the country will also join the Kisan United Front to decide on future steps against the new laws. Pal said that representatives of farmer organizations will convey their objections to the Union Ministers point-wise in the meeting to be held on Thursday. He said, "To repeal the three agricultural laws, the Center should convene a special session of Parliament. We will continue our agitation till all the three agricultural laws are withdrawn. "
Farmer leader Gurnam Singh Chadhuni said that if the Center does not withdraw the three new laws, then the farmers will take further steps in the coming days with their demands. Prior to the press conference, leaders of about 32 farmers' organizations met on the Singhu border, including Rakesh Tikait, leader of the Bharatiya Kisan Union. The talks between the Center and the agitating farmers' organizations were inconclusive on Tuesday and now further talks will be held on December 3.
Farmers' organizations turned down the government's proposal to form a committee to look into the issues raised by them and said they would intensify their agitation if demands were not met. Pal said, "After our meeting, Rakesh Tikaitji was called by the government for a meeting on Tuesday. He is with us. It is not a Punjab-centric movement, but farmers across the country are associated with it. We have also got the support of farmers from Kerala, Odisha, Uttar Pradesh, Rajasthan and other states against the new agricultural laws. "
He alleged that the government did not want Yogendra Yadav, a member of the Samyukta Kisan Morcha, to participate in the talks held by Union ministers and representatives of farmers' organizations on Tuesday. He said, "Yogendra Yadav ji told us that the process of negotiation should not stop. Only then did we attend a meeting with the Union Ministers. In the meeting held on Tuesday, we went as representatives of farmers from all over the country. We have foiled a conspiracy to divide the peasant organizations. "Farmers in Punjab and Haryana have been protesting at various borders in Delhi for the past one week. The number of protesters increased further on Wednesday. (Language)



www.indiatv.in