Highlights:
CM Adityanath is on a tour of Mumbai to talk to film personalities about the construction of Film City in UP
Yogi met Akshay Kumar and singer Kailash Kher, will speak with producer-director even today
Sanjay Raut's yogi must have taken a basket of Akshay mangoes for Sadhu Maharaj staying in Thanj-Five Star
Mumbai
CM Adityanath is on a Mumbai tour to talk to film personalities about the construction of Film City in UP. The day before, he met Bollywood actor Akshay Kumar and singer Kailash Kher. On Wednesday, he is scheduled to meet with several producers-directors including Boney Kapoor, Tigmanshu Dhulia. Simultaneously, the talk of Mumbai Film City's shift to UP has started intensifying and there was a ruckus in the politics of Maharashtra. Not only Shiv Sena, Congress, NCP but Maharashtra BJP also says that Film City cannot be shifted from Mumbai to elsewhere. At the same time, Raj Thackeray's Maharashtra Navnirman Sena (MNS) has also been entered into this dispute. Let's know who said on the ruckus about the film city-
Read: Yogi's meeting with film personalities, Uddhav government created panic
Moving film city is not easy – Sanjay Raut
On the meeting of Yogi Adityanath and Akshay Kumar, Shiv Sena MP Sanjay Raut said tightly, "Akshay may have carried a mango basket for Sadhu Maharaj staying in Five Star Hotel." He further said, 'If anyone talks about moving from here to Mumbai's Film City, it is a joke, it is not so easy. Film City is so many years old. We all are sweating blood and sweat. I would ask Yogi only that you want to make a big project. But what is the condition of the film city which was made in Noida a few years ago. Tell us how many films were shot there.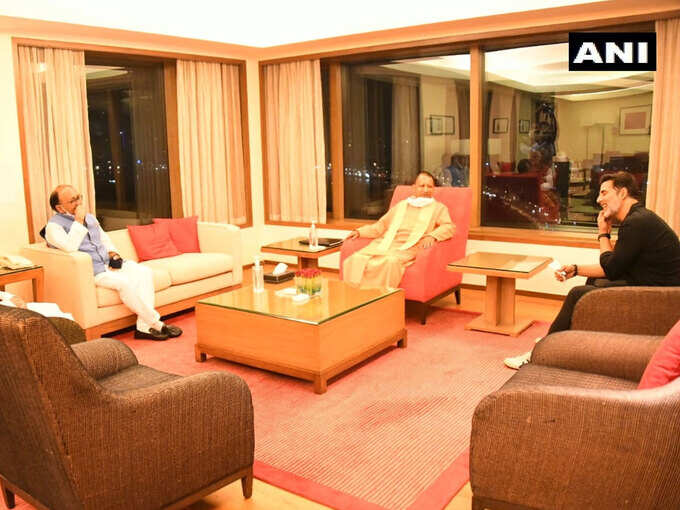 Sanjay Raut further said, 'The film industry is also very big in South India. There are also film cities in Punjab and West Bengal. Will Yogi ji go there and talk to the director / artist there or does he want to do it only in Mumbai. '
So Mumbai's status of 100 will also end Bollywood status- Nawab Malik
At the same time, NCP leader Nawab Malik said, 'Chief Minister Yogi is talking about making a film city like Bollywood in UP, it is a good thing but to understand that the status of Bollywood that Mumbai has got for 100 years will be over, people are completely Will move to the states. No one can destroy the status of Bollywood.
Read: RaJ Thackeray's party MNS put up posters against Yogi, calling Adityanath 'thug' without naming
No one can take Bollywood from Mumbai- Sanjay Nirupam
Mumbai Congress leader Sanjay Nirupam said, " Nobody can take Bollywood anywhere. Nor is it an affront to the patronage of any government or political party. Cinema lovers have settled this vast world with their hard work and this internal process has been going on for hundred years. The leaders should not be in the mood to shift or save it.
Film City cannot be moved out of Mumbai – BJP
Not only the Maharashtra government, but Maharashtra BJP president Chandrakant Patil says that no film can take the city and its glamor out of Mumbai. Chandrakant Patil said, 'Yogi ji must have come here to study about the facilities provided to the film city and the industry. But no one can take Film City and its glamor out of Mumbai. '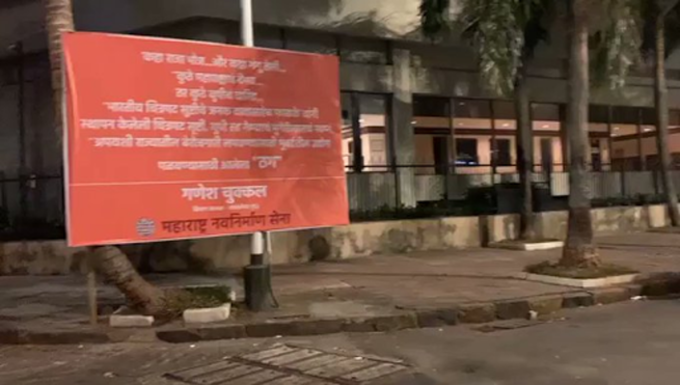 Where Raja Bhoj Where Gangu Teli – Maharashtra Navnirman Sena
At the same time, Raj Thackeray's MNS has also targeted Yogi Adityanath through the poster. In the poster, it has been written that in the poster 'Where Raja Bhoj and Gangu Teli', it is written that, where is the glory of Maharashtra and the poverty of UP. The father of cinema is Dadasaheb Phalke who started it. People are dreaming of Mungerilal to take it to UP. The thugs have come to hide the failure of the failed state and take Mumbai's industry.
The Maharashtra Navnirman Sena had put up anti-yogi posters at several places in Mumbai city last night. Although the name of Yogi Adityanath is not mentioned in this poster, but the gesture is towards him only.
No one can forcibly take business from here – Uddhav Thackeray
Chief Minister Uddhav Thackeray also targeted Yogi Adityanath without naming him. Uddhav said that no one can come to Maharashtra and take away the industry from here. Uddhav Thackeray said, 'Maharashtra is not afraid of competition but no one can forcibly take business from here. It will not be allowed. We are not jealous of anyone's progress but it should be done through Fair Competition. Uddhav said that the keyword Magnetic Maharashtra used to attract investors is quite powerful. The culture and institution of Maharashtra is its strength. Some people are coming today, they will also meet you and ask you to come with them. But the magnetic strength of Maharashtra is very powerful which will prevent things from moving here. '
Conspiracy to carry a piece of Bollywood- Ashok Chavan
Congress leader Ashok Chavan alleged that there was a conspiracy to take a piece of Bollywood to UP. Ashok Chavan said that many industries and offices were shifted to Gujarat when the BJP was in power in Maharashtra. The government changed in Maharashtra, but the BJP is now preparing the script to carry a piece of Bollywood in the name of the Uttar Pradesh government. He wrote in his tweet that whatever happened during the BJP rule, we will not allow it to happen again.

navbharattimes.indiatimes.com