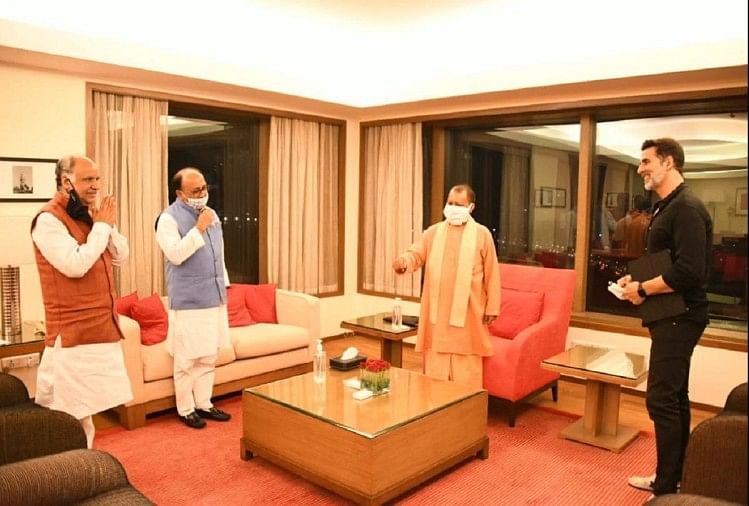 India News
Up Cm Yogi Adityanath News: Cm Yogi Aditynatah Mumbai Visit For Investment. – Yogi Adityanath: Chief Minister Yogi met Akshay Kumar in Mumbai, discussion with investors today
On December 2, 2020 by admin
News Desk, Amar Ujala, Lucknow
Updated Wed, 02 Dec 2020 12:06 AM IST
CM Yogi met Akshay Kumar
– Photo: amar ujala
Actor Akshay Kumar met Uttar Pradesh Chief Minister Yogi Adityanath on Tuesday night at Trident Hotel in Mumbai. CM Yogi is staying in this hotel. On this occasion, Yogi said that there are immense possibilities of film production in Uttar Pradesh. In view of this, the State Government is promoting film production activities through Film Policy-2018. Due to the shooting of films in the state, the local people get employment and the artists of the state get an opportunity to showcase their talent. Every possible cooperation and facility is being provided to the producers shooting the film in the state.
The Chief Minister said that Akshay Kumar, using his art properly, gave an inspiring message to the society through the film 'Toilet Ek Prem Katha'. Such films prove to be helpful in creating awareness in the society.

During the meeting with Yogi, Akshay Kumar appreciated the efforts of the state government to promote film production and expressed happiness over the decision to set up a Film City in the state. He also informed that the films starring him in the past have been shot in Uttar Pradesh. This initiative of the government will enable the bodies to raise financial resources for the development, beautification and cleaning expenses of large and important cities of Uttar Pradesh, while also encouraging financial discipline.
Yogi will inaugurate the Rs 200 crore Lucknow Municipality Bond on the Bombay Stock Exchange on Wednesday as well as discuss with industrial houses about investment in Uttar Pradesh. Urban Development Minister Ashutosh Tandon said that with the launch of the Lucknow Municipal Corporation bond on BSE by the Chief Minister on December 2, a major change will begin in the city development department.
Considering the way Lucknow Municipal Corporation bonds have been rated, bonds of Ghaziabad, Prayagraj, Varanasi, Kanpur and Agra municipal corporations will also be issued. Ghaziabad Municipal Corporation bond will be issued in the next three months. Discussions will also be held in Mumbai with eminent entrepreneurs of the country in the presence of the Chief Minister on this issue.

www.amarujala.com