Highlights:
UP Chief Minister Yogi Adityanath replied after the statements of Uddhav Thackeray
Uddhav said on film city transfer – Nothing is taking it anywhere, new film city being built in UP
Will make UP's Film City with world class facility according to its needs: Yogi
Mumbai
CM Yogi has responded to the issue of the remarks made by the CM of Maharashtra regarding the establishment of Film City in UP. UP CM Yogi Adityanath has said that he is not taking anything from any state. He said that UP's Film City is being built according to the demand and needs of the city, while the Film City of Mumbai will work according to its needs. Yogi said that we are working towards making a world-class film city in UP and that is why many people from the film world have been met today.
Yogi further said that neither we are harming anyone's investment nor are we hindering anyone's development. Pick and choose is not an option to encourage investment. The government makes all the policies for this and it is up to the investor where to put his money. All these things are based on people's trust in the government.
Please tell that Uttar Pradesh Chief Minister Yogi Adityanath has reached Mumbai. Here he talked to entrepreneurs and people associated with the film world about Film City. During this, he sought proposals, suggestions and support for the making of a film city in UP. The way the UP CM was talking to the entrepreneurs, NCP activists created a ruckus outside the hotel. On the other hand, the Minister of the UP Government has said that there is a threat through the underworld that a film city should not be made in UP.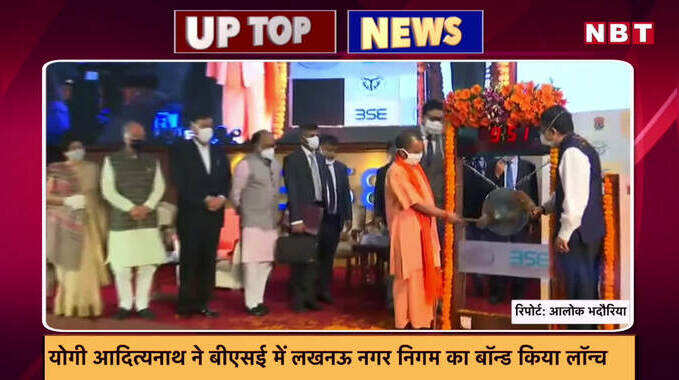 Yogi launches Lucknow Municipal Corporation bond in BSE … top 5 news of UP
'We are building Asia's largest airport'
UP CM Yogi Adityanath said that the place selected for Film City in UP is six kilometers away from Jewar Airport. This airport will be the largest airport in Asia. From this place Delhi can be reached in half an hour, Mathura in half an hour, Delhi in half an hour and Agra in 45 minutes.
UP's film city project will be world class
The UP CM said that he or his team did not work in this field. You guys have worked in this field. You guys have long experience. What can be done? Suggest for this Yogi said that the film city which will be made in UP will be a world class film city. I have come to invite you all.
Read: Yogi's meeting with film personalities, Uddhav government created panic
Shiv Sena's stance on Yogi's visit
Yogi has met all the people of the film world during his journey. On the meeting of Yogi Adityanath and Akshay Kumar, Shiv Sena MP Sanjay Raut said tightly, "Akshay may have carried a mango basket for Sadhu Maharaj staying in Five Star Hotel." He further said, 'If anyone talks about moving from here to Mumbai's Film City, it is a joke, it is not so easy. Film City is so many years old. We all are sweating blood and sweat. I would ask Yogi only that you want to make a big project. But what is the condition of the film city which was made in Noida a few years ago. Tell us how many films were shot there.
Where Raja Bhoj Where Gangu Teli – Maharashtra Navnirman Sena
At the same time, Raj Thackeray's MNS has also targeted Yogi Adityanath through the poster. In the poster, it has been written that in the poster 'Where Raja Bhoj and Gangu Teli', it is written that, where is the glory of Maharashtra and the poverty of UP. The father of cinema is Dadasaheb Phalke who started it. People are dreaming of Mungerilal to take it to UP. The thugs have come to hide the failure of the failed state and take Mumbai's industry.
No one can forcibly take business from here – Uddhav Thackeray
Chief Minister Uddhav Thackeray also targeted Yogi Adityanath without naming him. Uddhav said that no one can come to Maharashtra and take away the industry from here. Uddhav Thackeray said, 'Maharashtra is not afraid of competition but no one can forcibly take business from here. It will not be allowed. We are not jealous of anyone's progress but it should be done through Fair Competition. Uddhav said that the keyword Magnetic Maharashtra used to attract investors is quite powerful. The culture and institution of Maharashtra is its strength. Some people are coming today, they will also meet you and ask you to come with them. But the magnetic strength of Maharashtra is very powerful which will prevent things from moving here. '

navbharattimes.indiatimes.com