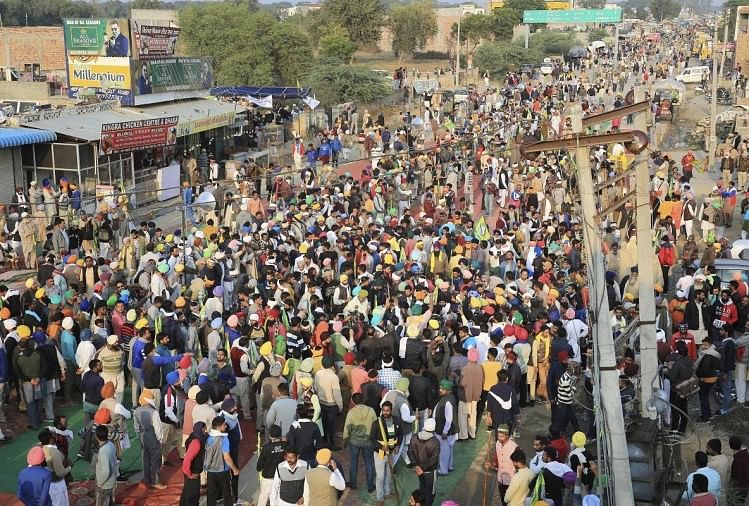 India News
Farmer Movement: Government Confidence But Confidence of Allies Shaken – Farmer Movement: Government confident but shaken confidence of allies
On December 2, 2020 by admin
abstract
After RLP on agricultural law, now JJP expressed concern
Demand to include MSP in new law
Akali Dal has already distanced itself from the government
Detailed
Although the government is full of confidence on the new agricultural laws, the concern of the parties involved in the NDA is continuously increasing. After the BJP's ally National Democratic Party (RLP) on Monday, now the Jananayak Janata Party (JJP) has expressed concern over the new laws and demanded a quick solution to the farmers' problem. The party, while supporting the farmers' demands, has asked the government to include an assurance to continue the Minimum Support Price (MSP) in the new agricultural laws.
Significantly, the Shiromani Akali Dal, one of the BJP's oldest allies, distanced itself from the central government and the NDA after wearing legal terms of three new agricultural bills. On Monday, RLP chief and MP Hanuman Beniwal threatened to withdraw from the NDA if the new laws were not withdrawn. Now on Tuesday, the JJP supported the demand of farmers to give written assurance of continuation of MSP in the new laws. The difficulty for the BJP is that its government in Haryana rests on the JJP's crutches.

JJP President Ajay Chautala said that the government should resolve the farmers' problem as soon as possible. MSP should be included in agricultural laws to suit the demand of farmers. Annadata of the country is getting upset on the streets. In such a situation, the government should increase its heart and accept the demands of the farmers.
Why are allies worried
In fact, whether it is the Akali Dal breaking ties with the NDA or the RLP or JJP that warns, the vote banks of these parties are of the farmers. Seeing the displeasure of the farmers, the Akali Dal broke with the NDA and the Modi government. Since the Jat fraternity is predominantly among the agitators, this is the main vote bank of the RLP along with the JJP. Therefore, these parties are stuck in this matter. Both JJP and RLP also claim to be pro-farmer parties. In such a situation, the agitation of farmers has increased the concern of these parties.
That's why the government came under pressure
The government's concern has increased with the increasing scope of the peasant movement and the allies standing with the farmers. Earlier, the government and the BJP were relaxed despite the farmers demonstrating in their own states and occupying the rail tracks. But the government is under pressure as the movement of the movement continues to grow and resentment of allies increases. Due to this pressure, the government suddenly invited farmers union representatives for talks on Tuesday.

www.amarujala.com