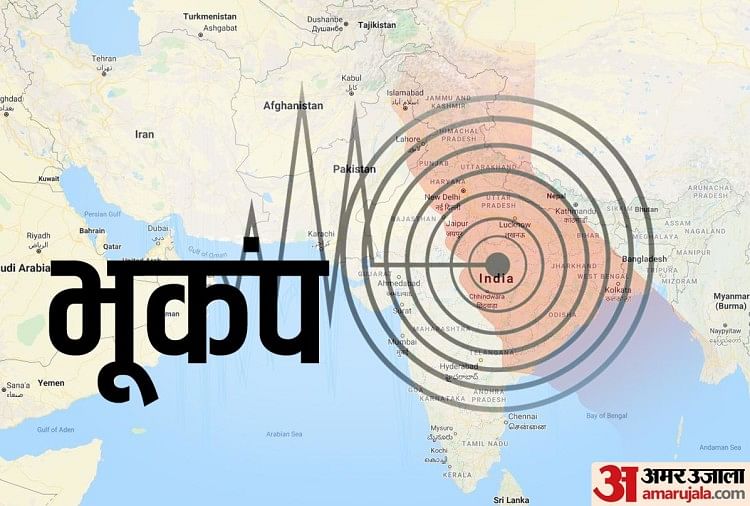 India News
Earthquake in Delhi, 2.7 Magnitude on Richter Scale – Alsubah earthquake tremors in Delhi-NCR, 2.7 magnitude on Richter scale
On December 2, 2020 by admin
News Desk, Amar Ujala, New Delhi
Updated Wed, 02 Dec 2020 07:49 AM IST
Earthquake tremors were felt in Delhi this morning. The magnitude of this earthquake on the Richter scale was 2.7. Earthquake tremors were felt in Delhi-NCR at 4.05 am. The epicenter of the earthquake is being reported to Ghaziabad, adjacent to Delhi. Currently no damage is reported.
Ever since the lockdown took place, there have been more than 10 earthquakes in Delhi and their center has also been around NCR. The tremors of the earthquake were also felt in Uttarakhand yesterday morning.

Some time ago scientists had predicted a major earthquake in the Himalayas and said that a large earthquake can occur at any time with a series of earthquakes in the Himalayan range. Its intensity can be eight or even higher on the Richter scale. Scientists claim that in the densely populated countries around the Himalayas, it can cause massive destruction and the capital Delhi will also be in its grip. However, when these earthquakes will occur, it is not yet estimated. Scientists believe that they are expected to come in the next 100 years.
Even such claims were made in earlier research
Professor Supriya Mitra of the Department of Earth Sciences at the Indian Institute of Science Education and Research, Kolkata, also believes this research to be correct. According to Mitra, some earlier research has also pointed this out. However, it is impossible to make any guesses as to when such a severe earthquake will occur. He said, earlier studies were assessed based on satellite imagery, but in this research the timing and size of the most recent prehistoric earthquakes have been defined based on geology.
Delhi will also feel strong shock
According to the research, the earthquakes will be so severe that even in the capital city south of the Himalayan region, the tremors will be felt.
Several mild earthquakes in North India in the last six months
There have been several mild earthquakes in the last six months in North India, which base the possibility of major earthquakes in the Himalayan region. According to scientists, many such small earthquakes are a sign of great destruction.

www.amarujala.com