News Desk, Amar Ujala, Jaipur
Updated Wed, 02 Dec 2020 11:46 AM IST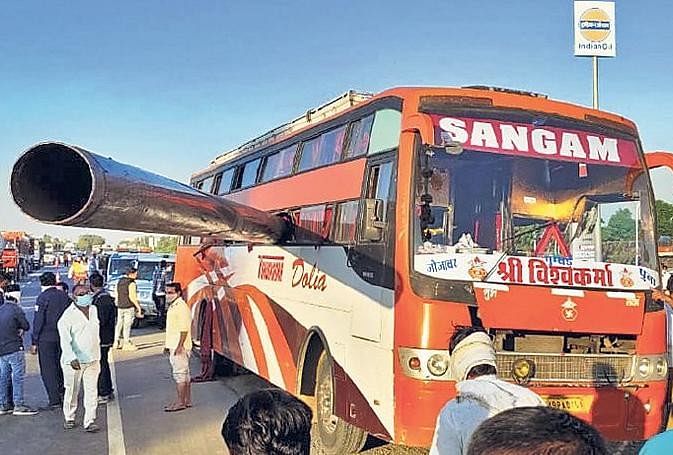 100 feet long pipe rammed into bus
– Photo: Social Media
A fatal accident occurred due to negligence near Sanderao on Jaipur-Ahmedabad NH-162 in Pali district. The laying of underground gas pipeline was going on at around 4.30 pm on Tuesday evening, 3 km before Sanderao town. The company's team was putting 100 feet long pipe into the ravine through a hydraulic machine, but the pipe swayed in the air and entered the bus of private travels passing through it and passed through the bus. In this accident, a woman sitting in a bus was beheaded and a young man was beheaded. In addition 13 people were injured. There was chaos on the spot. She reached the spot as soon as the police got the information. The body was taken out. The injured were brought to Sanderao Hospital. Police restarted the highway after two hours of hard work.
There was chaos in the bus
It is being told that as soon as the pipe entered the moving bus and the woman's head was severed from the head. There was a stir among the passengers. During this time blood spread in the whole bus, on seeing which people got nervous and somehow started trying to get out of the bus.
Police seized JCB of the company
Police said that the road was not one-way at the time of work, due to which the accident occurred. Four days ago, the police seized the JCB and tractor of the same company for wrongly standing on the highway, yet the company continued to be negligent.
Who is responsible for the murderous negligence?
The company laying underground pipes is being held responsible for this accident. Actually, the employees and officers of the company started work in the midst of the moving traffic. During this time he did not take any precaution, due to which a painful accident occurred. It is being told that during the work, the traffic police did not diversify nor did the company take strict action against it. At the same time, the driver and operator of the private bus did not pay attention to the long and wide pipe hanging on the hydraulic machine and the accident occurred.

www.amarujala.com