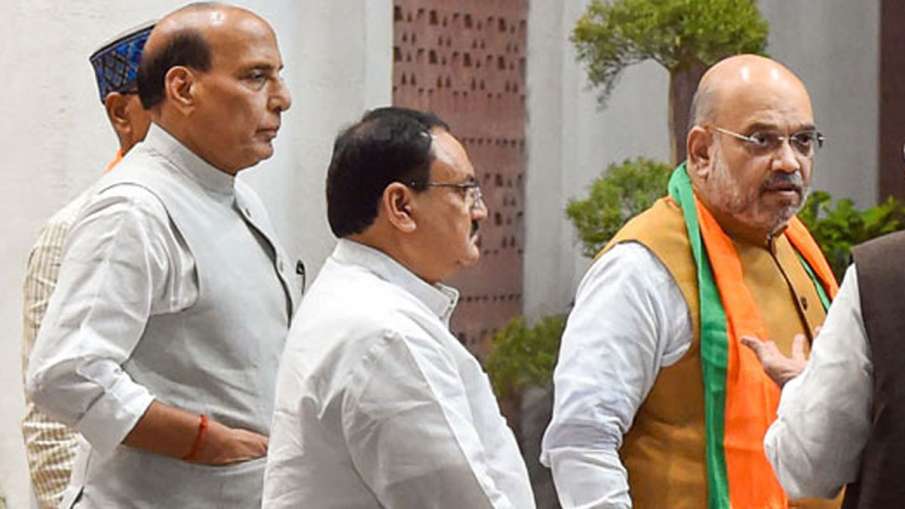 An important meeting is going to be held today between the government and 32 farmers 'organizations for the reconciliation between the farmers' agitation that has been going on for the last 5 days at the Delhi border. Before this conversation, churn has started in the government. A high-level meeting is going on at 10:30 am today at the house of Bharatiya Janata Party President JP Nadda. The meeting is attended by Defense Minister Rajnath Singh and Agriculture Minister Narendra Tomar. Meanwhile, there is news that Home Minister Amit Shah will also attend this meeting. Shah was to attend the BSF Rising Day Parade today. But they have canceled this program. The strategy of negotiation with farmers is likely to be discussed in the meeting.
Farmers have been agitating for the last 5 days on the borders with Delhi against the agricultural laws implemented by the Central Government under agricultural reforms. On the other hand, the government is constantly trying to convince the farmers. Meanwhile, on Tuesday 1 December, the government has invited farmers' organizations to discuss the dispute. There is a meeting between the leaders of farmers' organizations and the government today at 3 pm in Vigyan Bhawan. In this, the government has invited 32 of the more than 500 farmer organizations in the country to negotiate. On behalf of the government, Union Agriculture Minister Narendra Singh Tomar will hold talks with leaders of farmer organizations.
The 32 farmer organizations invited by the central government for talks include prominent farmer organizations from other states including Punjab. Let us know which organizations and their leaders are coming to negotiate with the central government.
Dr. Darshanpal, State President, Krantikari Kisan Union, Punjab
Kulwant Singh Sandhu, General Secretary, Jamhuri Kisan Sabha, Punjab
Buta Singh Burjgil, President, Bharatiya Kisan Sabha, Dakonda
Baldev Singh Nihalgarh, General Secretary, Kul Hind Kisan Sabha, Punjab
Nirbhai Singh Ghudike, President, Kriti Kisan Union
Ruldu Singh Mansa, President, Punjab Kisan Union
Major Singh Punnaval, General Secretary, Kul Hind Kisan Sabha, Punjab
Indrajit Singh Kot Buddha, President, Kissasan Sangharsh Committee, Punjab
H Rajinder Singh Tanda, President, Azad Kisan Sangharsh Committee, Punjab
Gurbax Singh Barnala, Jai Kisan Movement, Punjab
Satnam Singh Pannu, President, Kisan Mazdoor Sangharsh Committee, Punjab
Joginder Singh Ugraha, President, Bhartiya Kisan Union Ekta Ugraha
Surjeet Singh Phool, President Indian Farmers Union Revolutionary
Jagjit Singh Dalewal, State President, Bhartiya Kisan Union Sindhupur
Harmeet Singh, State President, Indian Farmers Union Qadian
Balveer Singh Rajewal, State President, Bhartiya Kisan Union Rajeval
Satnam Singh Sahni, General Secretary, Indian farmer U Nian, Daoba
Bodhi Singh Mansa, President, Bhartiya Kisan Union Mansa
Balwinder Singh Olakh, Majha Farmers Committee
Satnam Singh Behru, President, Indian Farmers Association of India
Buta Singh Shadipur, President, Bharatiya Kisan Manch
Baldev Singh Sirsa, Public Goodness Welfare Society
Jangbir Singhtanda, Daoba Farmers Committee
Mukesh Chandra Daoba Kisan Sangharsh Samiti
Sukhpal Singh Daffar, President, Sugarcane Conflict Committee
Harpal Sangha, Azad Kisan Committee, Daoba
Baldev Singh Mianpur, Indian Farmers Union Hon
Kripal Singh Nathuwala, Kisan Bachao Morcha
Parminder Singh Pal Majra, Indian Farmers Union Lakhewal
Prem Singh Bhangoo, Total Hind Kisan Federation
Kiranjeet Sekhon, Total Hind Kisan Federation



www.indiatv.in