Highlights:
The Mahaghadi government in Maharashtra completed its one-year term last week
The government of Shiv Sena-Congress and NCP have been in constant discussions in this one year.
During this, Aditya Thackeray, a minister in the Uddhav Thackeray government, was also in the discussion on many issues.
The Mahaghadi government in Maharashtra completed its one-year term last week. In this one year, the Shiv Sena-Congress and NCP governments have been in constant discussion. Aditya Thackeray, a minister in the Uddhav Thackeray government, was also in the discussion on many issues. The opposition continued to attack him. He was added to every controversy. NBT on all these issues Narendra Nath Aditya Thackeray spoke to Here is an important part of the conversation-
Question- How was the experience of working in the first year?
answer- Experience was good I got better administrative and governance experience. In the same year, we faced disaster like Kovid and storm. In the same year, five years of study was done. But the public got support even in difficult circumstances. Overall a lot was learned and it will benefit in the coming year.
Question- Appears to be active on social media in communicating directly with the general public in the government. Any special reason?
answer-We have thought that when we come to the pride, we are a bit lost. Live in the air. They begin to understand themselves differently from others. But under the leadership of CM, we recognized that we are from among the people, for the people. That is why we will communicate directly with the public through all means. Communicate with social media. This gives people's feedback. We take our things to the public and the public delivers their words directly. Both benefit from this.
Question- You were very aggressive on the issue like Aarey Jungle, you were also called anti-development by critics?
answer- All ministers within the government had to give the best in their respective departments. Everyone worked Debt waiver of farmers. Similarly, we completed whatever work was given in my department. As far as Aare Jungle is concerned, it was not just me but the whole Mumbaikar was demanded. Save 800 acres of forest, it is historic. We saved the environment. But at the same time, we made agreements for 17 thousand crore industries during this period. That is, we created the balance of development and environment, which is the best situation.
Q: You were also the target of the opposition in these one year. There have been many allegations, many attacks?
answer- I thought it is better not to pay attention to it. Focusing on work did not go unnoticed. Criticizing becomes the work of the opposition, they have no work. It is a matter of comfort for us that the Mahaghadi government is doing well and questions are not raised on it. This is why there were wrong and personal attacks. But five years we will work, not politics. As far as the personal attack on me is concerned, you must have seen in football whether Messi or Ronaldo is man-to-man, all of them are surrounded by no one to score a big goal. Maybe I feel threatened by them.
Question- What kind of equation is there within the government. Is co-ordination in all three parties okay?
answer- There has been a different level of bonding since we came together. It does not seem that three different teams are working. We are working together like the 'Best of XI Team'. All are helping each other. Critics say that in the election we had given the slogan of 150 plus, let us tell them that it is 162 now. We are working as a composite team for Maharashtra interest.
Question- But from Bollywood to Mumbai Police also got controversies. Your name was also linked to these controversies
answer- The opposition feels that they were all good when they were in government. He used to go to Delhi throughout his program on the plane. Used to sing songs for them. They had a good relationship. But since his government went, the Mumbai Police started feeling bad. Bollywood started to look bad, people of Mumbai started feeling bad. Mumbai came to be known as Drug Center. This is his problem, the problem. It seems that the number of his glasses has changed with the change of government. He has a stomachache. He is being troubled by all the good work that is being done in Mumbai, Maharashtra and making false allegations.
Question- BJP's allegation is that the Shiv Sena has started supporting the wrong forces. Questioned even your nationalism?
answer- It hurts to hear this. This does not happen in Vibrant Democracy. We are in government. Our job is to take everyone along. It is not right to discredit anyone. Look at the issue of the country, see only the issue of China. Sometimes they say that China came in. Never came Look at the ongoing farmers' movement. Roads are being dug to stop them. They are called Anti Nationals. It is a matter of throwing dust in the eyes. The real issues of the public are different, the narrators are made different. The talker of the concern is maligned. See now only one and a half lakh social media accounts have been created to malign Maharashtra. But this will not stop the sound.
Question- Your Hindutva identity was also questioned.
answer-Our Hindutva is different from BJP. Respect everyone, be respectful. There is faith in karma. This is my Hindutva. BJP's Hindutva is political Hindutva. They follow the 'My Way or High Way' principle. If they believe their Hindutva to be right then how did they compromise the PDP? From Bihar to many states, with whom he fought and then aligned with them. We who were with him stabbed us in the back. Is this their Hindutva? They have separate Hindutva in one state, different in another state. Hindutva is not a political object for us.
Question- Can Shiv Sena-NCP-Congress be used for Opposition unity at the national level in Maharashtra?
answer- The three parties together have shown a new convergence to the country. Everyone used to say that these three parties will work together for a year? But it happened. People of different ideologies are associated in the name of the public. It gives hope that many parties in the whole country will come together and give better options without leaving their roots. BJP people decide the date each week when the government will fall. But we will give options by running the government with five years of strength.
Many young leaders are coming forward in the country. The issues of youth are also affecting politics. How do you see this trend as a young leader?
answer- The competition that Tejashwi Yadav gave in Bihar is a commendable compliment. The entire force was against him. Young
They showed what the passion is. Fought elections on the issue of youth. Youth belongs to our age group. He does not see the ideology of individual parties. He looks at their connected issues. Kovid has deepened the economic crisis on him. Issues related to economic concern and employment have started to dominate after Kovid. I hope that the youth will decide the direction of politics to come and we will be with them. The politics of the coming times will be 'Act of Youth'. Economy will improve not from 'Act of God' but from 'Act of Youth'. We have to listen to them.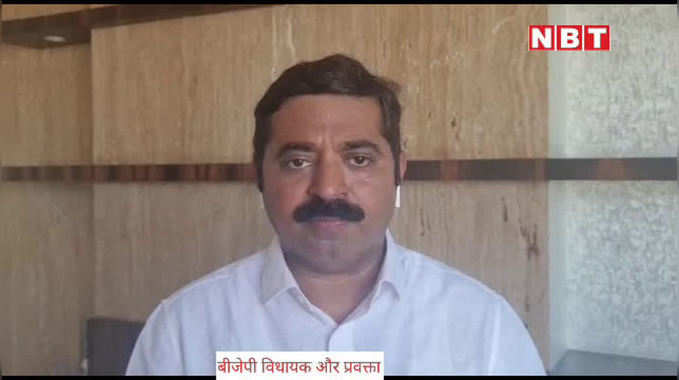 Thackeray government rescuing drug mafias in Maharashtra – MLA Ramkadam

navbharattimes.indiatimes.com