Highlights:
The campaign for the last day for the Greater Hyderabad Municipal Corporation election ends on Sunday, now the voting will be held on December 1
In Hyderabad Municipal Elections, BJP poured full power here, BJP's veteran leaders started campaigning to register presence.
BJP workers are also aware that establishing TRS and Owaisi stronghold is not an easy task
Hyderabad
The last day election campaign for the Greater Hyderabad Municipal Corporation election came to an end on Sunday. Now there will be a vote on 1 December. BJP's aggression in body elections has surprised people. The BJP has given full strength to Hyderabad body election as Lok Sabha election. Veteran party leaders were busy campaigning to make their presence in Hyderabad through these elections. However, BJP leaders also realize that establishing TRS and Owaisi strongholds is not an easy task.
In the 2016 election, the BJP won just 5 seats in the coalition, compared to 99 seats of the ruling party TRS and Owaisi's AIMIM 44 seats. BJP leaders may be claiming in public meetings that the next mayor in the city will be from the saffron party, but party sources say they are aware that it will not be easy to get a majority in the body elections.
BJP does not expect victory like Tripura
One leader said, "We cannot realistically hope to expand here as the BJP led by Prime Minister Narendra Modi and Amit Shah showed in the Tripura assembly election by bringing the party from zero to majority". BJP general secretary Bhupendra Yadav has been appointed in-charge in Hyderabad Municipal Corporation election.
Why is BJP trying so much in municipal elections?
Bhupendra Yadav says, 'Many people are asking again and again why BJP is investing so much in municipal elections. To be fair, the BJP invests in all the opportunities to serve the people of the country, irrespective of the election. Those who are asking why, the answer is for them – why not.
What is BJP's goal for municipal elections?
According to sources, the party's goal behind the massive election campaign in Hyderabad could be to establish it as a factor in Telangana. Party strategists believe that TRS's downfall could be its leader and Chief Minister Chandrashekhar Rao as he is accused of promoting dynasty, along with alleged corruption and administrative inefficiency in the party.
BJP has found the reason for the fall of TRS?
On Sunday, the last day of campaigning in Hyderabad, Home Minister Amit Shah said, "We want to move Telangana from dynasticism to democracy, from corruption to transparency and from politics of appeasement to development." The party's stand is more clear with its statement that it is not in a mood to spare the CM and his family who are facing allegations of promoting corruption and familism.
Telangana wants to come out of 'Thanksgiving Mode'?
The BJP's victory in the Dabka by-election came as a surprise success, after which it is being said that perhaps the people of the state now want to come out of the 'Thanksgiving mode' for the founder of Telangana (K. Chandrasekhar Rao). Dabka is bordered by Gajwel, Sircilla and Siddipet. GCR is represented by KCR, his son from Sircilla and IT Minister KT Ramarao is the MLA while Siddipet is considered to be the stronghold of CM's nephew Harish Rao.
Winning 4 seats in Lok Sabha elections boosted morale
Apart from this, by winning 4 seats in BJP in the 2019 Lok Sabha elections, the morale of the workers has increased, while the Congress and TDP have fallen as the opposition. Congress won just 2 wards in the 2016 GSMC election. While campaigning for the civic elections on Saturday, UP CM Yogi Adityanath has started a new debate. Yogi said, 'Some people are asking me if Hyderabad can be renamed as Bhagyanagar? I said why not. I told him that we have changed the name of Faizabad to Ayodhya and Allahabad to Prayagraj. Then why can't Hyderabad be renamed Bhagyanagar?
From Shah to Yogi campaigned
Explain that the Greater Hyderabad Municipal Corporation is one of the largest municipal corporations in the country. This municipal corporation consists of 4 districts including Hyderabad, Rangareddy, Medchal-Malkajgiri and Sangareddy. There are 24 assembly seats and 5 Lok Sabha seats inside this municipal corporation. Recently, BJP National President JP Nadda, Home Ministers Amit Shah and Smriti Irani and UP CM Yogi Adityanath campaigned here.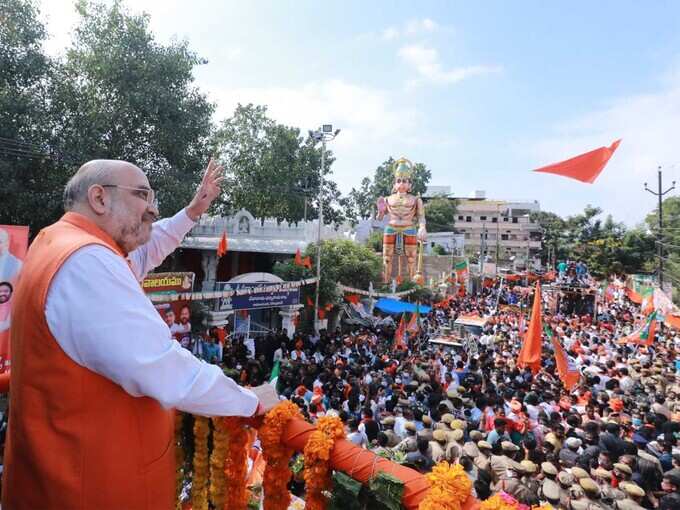 Amit Shah during election campaign in Hyderabad

navbharattimes.indiatimes.com