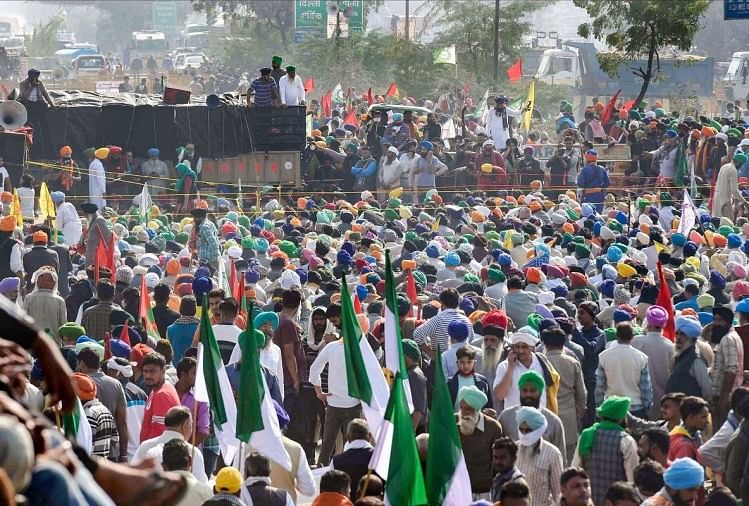 India News
Farmers Demonstration on Singhu Border Continues Against Agricultural Laws – Farmers' declaration after a day-long meeting on the Indus border, said – will return by taking a decision in their own right
On November 30, 2020 by admin
The farmers, who have been on the Delhi border for five days against three new agricultural laws, said that they have come to Delhi for a decisive fight. His performance will continue until his demands are met. The farmers said that they would return only after taking a decision in their own right. The farmers remained adamant on the Singhu and Tikri borders on Monday even after unconditional talks and Burari did not go to Nirankari Maidan.
Farmer leaders said in the evening after a day-long meeting of farmers' organizations on Singhu Border that the movement has become national. It is not just the farmers of Punjab. Will not retreat without fulfilling the demand. We will not compromise on our demands. Delhi will be surrounded by five sides to intensify the movement.

On the other hand, in view of the strategy of the farmers not to withdraw from the border, the Delhi Police has tightened security arrangements at all the five borders and kept Delhi on high alert.
30 farmers organizations are leading the movement
Farmer organizations said, we have come to tell our mind to PM Narendra Modi. If the government does not listen, it will have to bear the brunt. AIKSCC's Yogendra Yadav said, "There is a movement led by 30 farmer organizations." Farmer leaders from across the country have reached Singhu border with about 100 Khap Panchayats of Haryana.
Farmer leader Gurman Singh Chanduni said, the government has filed 31 cases against us to end the agitation, but we will not back down.
Security increased on access routes in Delhi
The farmers and police sat face to face on the Singhu and Tikri borders, while on the Ghazipur border, twice in the morning, the farmers broke barricades and tried to enter the capital. Delhi Police has put up jersey barriers on the border.
Given the situation, the security of the capital was further enhanced. Additional security has also been deployed on Delhi-Mathura and Delhi-Jaipur highways. People coming and going to New Delhi are being investigated. Security has been tightened around other important places including India Gate, Parliament House, Jantar-Mantar.

www.amarujala.com