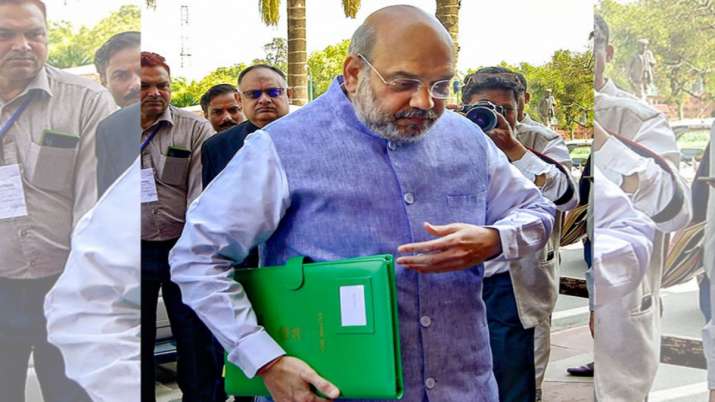 India News
Amit Shah Meets Agriculture Minister As Farmers Threaten To Block Delhi – Farmers' Demonstration Continues, Home Minister Amit Shah Meets To Solve The Issue
On November 30, 2020 by admin
new Delhi: Farmers are protesting on the borders of Delhi in protest against agricultural laws. Meanwhile, Union Home Minister Amit Shah is chairing a meeting with senior leaders to discuss the issue. Union Agriculture Minister Narendra Singh Tomar and other senior BJP leaders were also present at the meeting that started on Monday morning at Shah's residence. Sources said that the meeting was held to deliberate on the steps the central government would take to end and persuade the farmers to oppose them.
The meeting took place to decide the steps by which controversial issues can be resolved through discussion. Sources in the Ministry of Home Affairs said that the government can send an invitation to farmers for talks at any time. A day before this meeting, the farmers refused to go to Burari field. The government had said that it was ready for talks, but at the same time appealed to the farmers to go to Burari Maidan in north-west Delhi.
The announcement was made by the Home Minister two days before the meeting. He had said, "If the farmers unions want to discuss before December 3, then I want to assure all of you that as soon as you transfer your protest to the designated place, our government will take the next day to address your concerns Will talk with you. "
Protest of farmers continued on Monday for the fifth day. Some farmer leaders have confirmed that the government can soften its stand on their opposition. During the last five days, farmers and the central government have held several meetings to decide their future tasks. But they have not yet come forward to discuss the issue.
After Shah's assurances, it is learned that some farmer leaders are in touch with BJP leaders and if the central government agrees to talk unconditionally, they will be ready for discussion with the Center.
Meanwhile, farmers' protests continue on the main roads coming to Delhi via Haryana. A large number of farmers are on the Delhi-Chandigarh border along the Singhu border, Delhi-Rohtak on the Tikri border and Delhi-Ghaziabad on the Ghazipur border. They have been allowed to rally at their current locations amid heavy police presence.
Farmers are demanding repeal of the three agricultural laws enacted in September. A total of 31 farmer unions were announced to hold protests in Delhi on 26 and 27 November. The farmers who turned out with the slogan of Delhi Chalo had turned to the national capital. Most of these farmers are from Punjab, while some farmers are also from Haryana and western Uttar Pradesh. As a precautionary measure, the police had stopped the farmers heading towards Delhi on the Haryana-Delhi border.



www.indiatv.in