Amar Ujala Network, Varanasi
Updated Mon, 30 Nov 2020 4:07 PM IST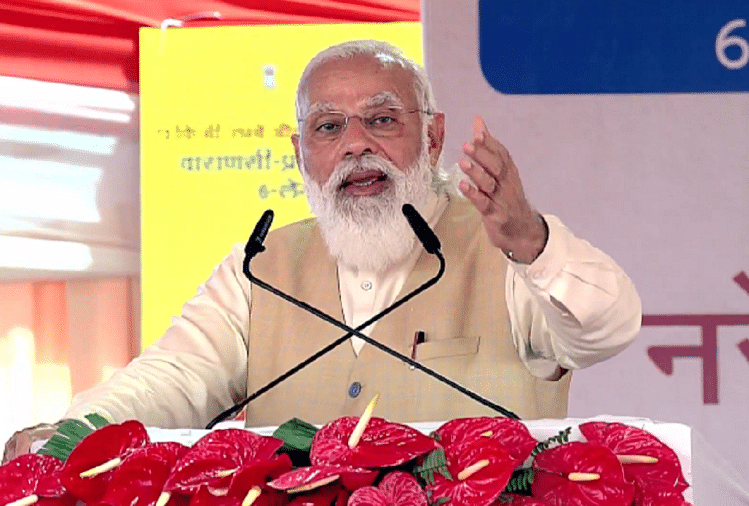 PM Khajuri addressed the public meeting.
– Photo: Amar Ujala
The shadow of the farmers' agitation in protest against the Central Agricultural Law was also reflected in the glow of Dev Diwali. Actually, Prime Minister Narendra Modi reached his parliamentary constituency Varanasi on the occasion of Dev Deepawali. During this time, PM Modi inaugurated the Varanasi-Prayagraj Six Lane Highway by pressing the button. After this, in his entire speech, instead of Dev Deepawali, the farmers were the only ones. It is worth noting that in Khajuri, Prime Minister Modi addressed the people for about 40 minutes. During this, he continued to speak on the issues of farmers for about 30 minutes.
This is how PM Modi started his speech

Significantly, PM Modi addressed the public meeting in Khajuri, Varanasi. After this, his entire focus was on the farmer and farmer movement. PM Modi called the farmers as Annadata and greeted them from the land of Kashi.
Modi spoke from MSP to agricultural law
Prime Minister Narendra Modi in his speech discussed everything from MSP to agricultural legislation. He said that our government is spending crores of rupees to modernize the mandis. He said that mandis and MSPs are not being removed under the new law. There is no restriction in the new agricultural law if one considers the transaction from the old system reasonable. New agricultural reforms have given new options and new legal protection.
'Trick and Ganga water' targeted the opposition
Prime Minister Modi fiercely targeted the opposition during his speech. He said, 'You have to remember that these people used to raise questions about PM Kisan Samman Nidhi. These people used to spread rumors that Modi has given money once. Will not give again. At the same time, one state did not allow the Kisan Samman Yojana to be implemented. Apart from this, farmers were also cheated in the name of debt waiver. PM Modi said that I am not cheating, working with holy intentions like Ganga water.

www.amarujala.com