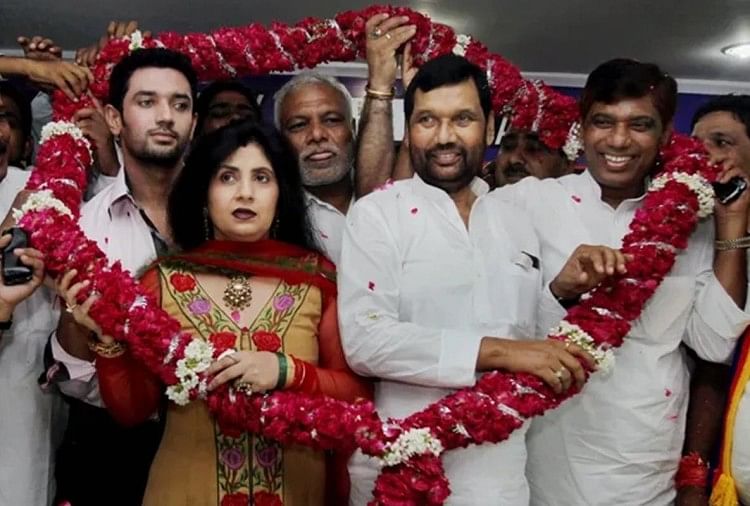 India News
Rajyasabha by election Rjd want Reena Paswan to stand against Sushil Kumar Modi Chirag Ramvilas Dalit face support
On November 29, 2020 by admin
News Desk, Amar Ujala, Patna
Updated Sun, 29 Nov 2020 10:16 AM IST
Reena Paswan with husband Ram Vilas and son Chirag (file photo)
– Photo: PTI
The Rashtriya Janata Dal (RJD) is not in the mood to give a walkover to the NDA candidate in the by-election for the Rajya Sabha seat vacated by the death of Ram Vilas Paswan. The party wants to nominate Ram Vilas Paswan's wife Reena Paswan as their candidate while playing a big ballot on this seat. Reena is the mother of Chirag Paswan, the national president of the Lok Janshakti Party (LJP).
If Chirag is ready then RJD is ready to bet on Reena Paswan. RJD says that this seat is of Dalit quota, on which BJP is sending a Vaishya to the Upper House in the form of Sushil Kumar Modi. However, LJP has just kept silent on this offer of RJD.

The political situation in Bihar has changed with the death of Ram Vilas Paswan. In the past, the BJP and JDU together sent him to the Rajya Sabha. However, due to his death, this seat has gone out of LJP. This is because of Chirag Paswan's JD (U) chief minister Nitish Kumar's open rebellion in the recent assembly elections. During the elections, JDU had said many times that Ram Vilas had reached Rajya Sabha because of him. Now Sushil Modi has been made a candidate on this seat.
Also read- Bihar: Chirag's target of BJP on LJP's foundation day, said- 'They are free to decide on candidates'
RJD is playing dalit card
The RJD intends to hit multiple arrows by playing dalit cards. Party spokesperson Shakti Yadav says that if Rina Paswan agrees, RJD will support her unconditionally. He said that this seat is vacant after the demise of the country's great Dalit leader Ram Vilas ji. This seat was supposed to be known to LJP. This would have been a true tribute to Ram Vilas ji.
Yadav further said that as long as Ram Vilas ji was alive, the BJP used his votes and after his death is hurting his soul. If Chirag does not want to make his mother a candidate, RJD will field another Dalit face. It can be decided on Sunday.

www.amarujala.com