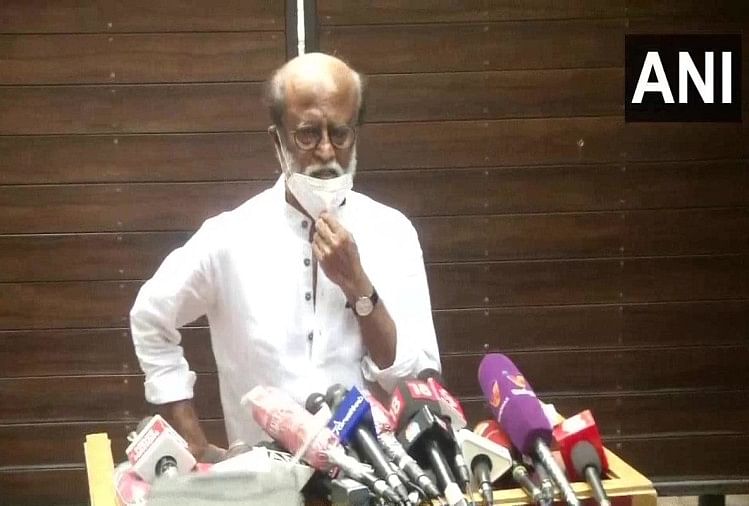 India News
Rajinikanth on Entering Politics Says Will Announce Decision Soon – Rajinikanth's entry into politics remains skeptical, meets Mandram leaders
On November 29, 2020 by admin
News Desk, Amar Ujala, Chennai
Updated Mon, 30 Nov 2020 1:44 PM IST
Tamil superstar Rajinikanth said on Monday after brainstorming with his supporters in Chennai that he would be made aware of his decision to enter politics as soon as possible. Rajinikanth said that he has met the district secretaries of 'Rajni Makkal Mandram' (RMM) to discuss the possibility of entering politics.
After speaking to RMM secretaries at Raghavendra Kalyan Mandapam, he told reporters outside Chennai's residence at Poes Garden that the officials gave their opinion and made them aware of their views on the matter themselves.

Rajinikanth said, he (officials) said that he is with me in whatever my decision will be. I will tell you about the decision (entry into politics) as soon as possible. Significantly, Tamil Nadu is going to have assembly elections in April-May 2021.
Last month, the actor hinted that the long wait to enter politics could be even longer. A letter allegedly written by Rajinikanth in October went viral on social media, citing doctors' concerns about his health. Rajinikanth, however, dismissed some of the things written in the letter as fake. Whereas he admitted to the possibility of being a victim of corona due to health risks written in the letter.
Rajinikanth's doctors have consistently advised him not to go into politics. Doctors say that he may have trouble conducting election campaigns due to his health condition. Earlier, Rajinikanth said in a tweet, "I will announce my political stance at the right time after proper consultation with the members of Rajni Makkal Mandram."
At the same time, some sources regarding the letter say that it was genuine. Sources close to the superstar said that his health would not allow him to conduct election campaigns during the epidemic. Actually, Rajinikanth underwent a kidney transplant in 2016.

www.amarujala.com