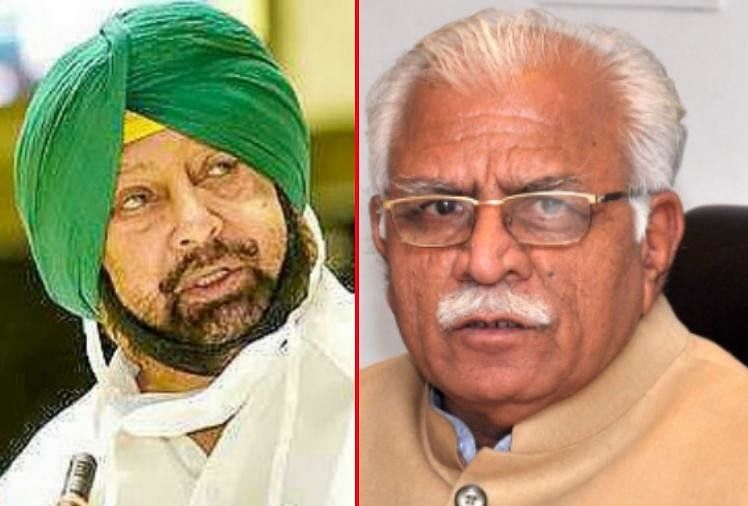 India News
Punjab CM Capt Amarinder Singh Reply On Statement Of Haryana CM Manohar Lal – The war between the Captain and Manohar continues, now both the Chief Minister clashed over the issue
On November 29, 2020 by admin
News Desk, Amar Ujala, Chandigarh
Updated Sun, 29 Nov 2020 07:32 PM IST
Capt Amarinder Singh, Manohar Lal.
– photo: file photo
The verbal war between the CMs of Punjab and Haryana over the peasant movement does not seem to stop. On Sunday, Punjab CM Capt Amarinder Singh hit back at Haryana Chief Minister Manohar Lal's statement. Taking a dig at Manohar Lal, the Captain said that he can destroy his farmers. Even in this hour of crisis, instead of standing with him, he is calling them Khalistani. Haryana's record regarding Corona is very poor. If he is worrying about the spread of corona due to farmers, then they do not stop him in Haryana. Let the farmers go directly to Delhi.
Controversy arose over phone call-

Amid agrarian agitation, tensions between the chief ministers of the two states grew over phone calls. In fact, Haryana CM Manohar Lal said that we tried to contact the Chief Minister of Punjab several times regarding the farmer issues but he did not respond. To this the Captain said that Manohar Lal is lying that he tried to talk to me many times and I did not answer. When I can talk several times with the Prime Minister and the Union Home Minister on the issue of farmers, why would I hold back from talking with my neighbor Chief Minister. Whatever they have done to my farmers, I do not have to talk to them at all. Try it out 10 times. I make no sense talking to Manohar Lal. Regardless of whether he is a neighbor or not. Till Manohar Lal does not apologize and believes that I have done wrong to the farmers of Punjab, I will not forgive him.
Manohar Lal gave this statement-
Chief Minister Manohar Lal said that due to Korana, there is a ban on the gathering of more people. For this reason this rally has also been organized virtual. I am surprised that the Punjab government encouraged this movement. If Corona's situation deteriorates due to this, I blame the Punjab government for this.
I tried to talk to Punjab CM Captain Amarinder Singh about this subject but he is refusing. Now when we recorded the record of their conversation on social media, they had no answer left. Because it is a Punjab government sponsored program, he is now running behind.
Manohar said – Punjab CM used Ochi language
In response to a question after talking to reporters after the program, the Chief Minister said that the CM of Punjab is not angry with me, but the kind of frivolous language he has used does not suit a CM. Let me say that it is not good. People are speaking on social media that one Chief Minister should not be treated like this with another Chief Minister. I cannot behave as they have behaved.

A man who can disown his own farmers and even go so far as to call them Khalistanis instead of standing by them in this hour of crisis, clearly has no moral scruples about spreading lies: Punjab CM Captain Amarinder Singh

– ANI (@ANI) November 29, 2020
If he (Haryana CM) was so concerned about farmers spreading COVID in Haryana whose track record in the pandemic remains extremely poor, he should not have stopped them within the State, but should have allowed them to move quickly to Delhi: Punjab CM Captain Amarinder Singh https://t.co/L5oySr8Hl7 pic.twitter.com/p7pVCM7pAp

– ANI (@ANI) November 29, 2020



www.amarujala.com