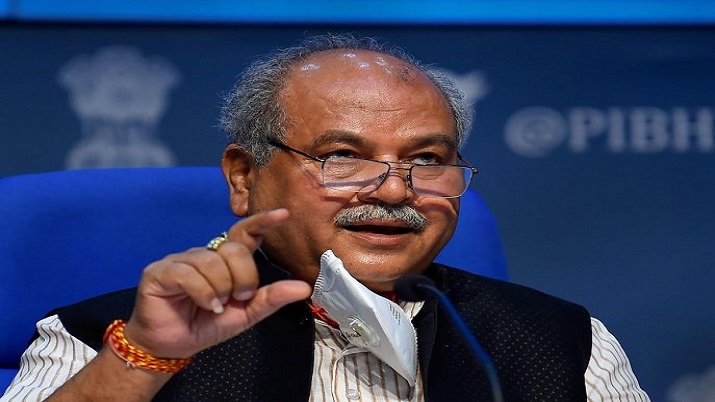 new Delhi: Union Agriculture Minister Narendra Tomar has once again appealed to the farmers agitating against the agricultural laws of the central government to leave the agitation and choose a path of dialogue. Referring to the proposal of talks for the farmers agitating on behalf of the central government, he said that the central government has proposed to negotiate four times.
Tomar said, "The government has proposed to meet for the fourth time on December 3. Therefore, negotiations are already going on, one should not think that the government is not ready for this. The government welcomes the talks, farmers That unions should create an environment for this. They should leave the movement and choose to negotiate.
However, it is worth noting that the farmers have rejected the proposal. Farmer leaders on the Singhu border said, 'We consider the condition of talks by the government as an insult to the farmers' organizations. Now we will not go to Burari Park at all. We have come to know that it is an open prison, not a park. Instead of going to the open jail, we will block the 5 main road and siege Delhi. Demonstrations will also start in the states from December 1.
Farmers' organizations have advised the government not to impose conditions on farmers for talks. Describing the decisions taken after the farmers 'meeting on the Indus border, State President of Bharatiya Kisan Union Krantikar Sarjit Singh Phool said,' We have not accepted the invitation of the Center as it has come with the condition that all farmers Should shift to Burari Park and talk to the government the next day.
He said, 'The Haryana government dug up the roads to block our path. Now that the government has laid down the condition, we will not go to Burari Park as it is an open prison. We will block all 5 points of entry into Delhi. Our tractor is like small rooms for our accommodation. We will not give any political party a place on our platform. We have 4 months ration, so there is nothing to worry about.
He said, "Our steering committee will decide everything." The farmers decided that they would be sitting on the borders for the time being. Please tell that the farmers are also frozen on the national capital's Singhu and Tikri borders. However, the government has asked them to shift to Burari grounds, after which they will be talked to. The farmers have refused to go to Burari.
Significantly, the farmers are still stuck on the Haryana Delhi border. After the Singhu and Tikari borders of Haryana, farmers have also camped at Ghazipur border connected to Ghaziabad. Police is diverting traffic coming from UP. The leaders of the Bharatiya Kisan Union have already said that the conditions of the government are not acceptable to them. They will not go to Burari.



www.indiatv.in