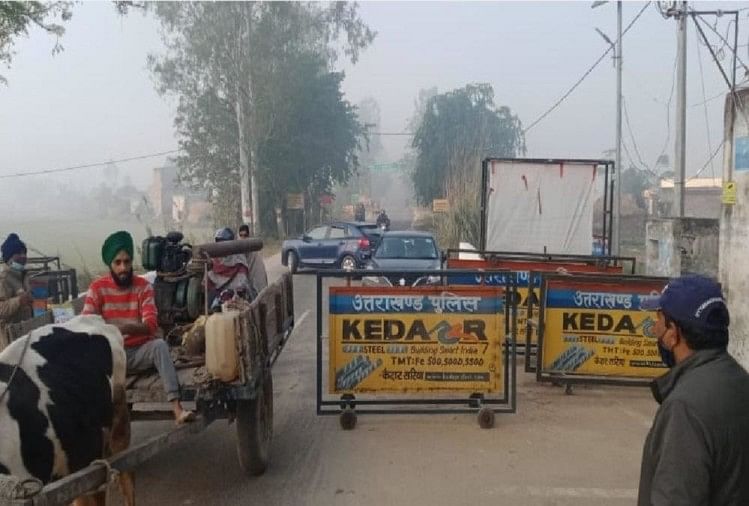 India News
Kartik Purnima 2020: Police Return Approx 2000 Vehicles From Roorkee Border – Karthik Purnima 2020: Over 2,000 vehicles coming from Uttarakhand to Uttarakhand returned from the border
On November 29, 2020 by admin
Checking at Roorkee border
– Photo: Amar Ujala
abstract
Due to the prohibition of Ganga bathing on Karthik Purnima, the police strictly on the border
Permission given to visitors for bone immersion and other important tasks
Detailed
In view of the increasing infection of Corona, over two thousand vehicles transported from the outskirts were returned from the border due to the ban on Ganga bathing in Haridwar and Rishikesh on Karthik Purnima.
People in these vehicles wanted to come to Haridwar or Rishikesh for a Ganges bath. During this time, there was a sharp conflict between the passengers and the police. Only those people who were coming for bone immersion or any other important work were allowed to come to the state. The people of the state were given admission after checking their IDs.

Read also: Chandra Grahan 2020: Sutak will not be used during lunar eclipse on Kartik Purnima, special yoga is being made
On Monday, due to the prohibition of Ganga bath on Karthik Purnima, the police had increased the vigor on the borders of the state adjoining the district since morning. A heavy police force was deployed at all borders including Narsan, Mandawar, Khanpur.
Nearly one thousand vehicles from Delhi, Ghaziabad, Meerut etc. were returned from Narsan. In the Bhagwanpur area, over 200 people from other states including UP, Punjab, Haryana were returned to the Mandawar border.
The traveler kept on honking
About 100 vehicles were also returned from the Kali River Outpost. On the other hand, passengers coming from Purkaji in Khanpur area were stopped at Khanpur border. Police returned around 150 vehicles from here. People coming from Bijnor were not allowed inside the border at Balawali. Around 50 vehicles were also returned here.
Passengers arriving at the border for the purpose of bathing the Ganges kept on honking, but the police returned everyone citing rules. During this period, the local people were also given entry only after closely checking their ID. People arriving with bones and essential service vehicles were given entry without any restriction.
Khanpur Police Station Abhinav Sharma said that on Sunday, the strictness was extended at six o'clock in the four Borders Khanpur Purkaji, Sikanderpur-Purkaji, Balawali-Mandawar, Dallawala-Morena on Sunday. Mandawar chowki in-charge Manoj Mamgain said that around 200 vehicles that had taken a bath from the outskirts were returned from the border during the day.
Police force deployed
Apart from the major borders, police were also tightly guarded on the borders along the connectivity routes connecting UP. Under this, vehicles coming from Deoband Road towards UP were not allowed to enter the border. Apart from this, the police stopped the vehicles by putting barricades near Gokulpur on the route from Mangalore Gud Mandi towards Deoband. Similarly, adequate police force was also deployed on Jhabrera and Lucknow route.
About a thousand vehicles were returned to the Narsan border. Apart from this, hundreds of vehicles have also been returned from other borders. Due to Corona, the entry of people from outer states coming to Ganga bath is banned on Kartik Purnima. Adequate police force has been deployed at all the borders for checking. Toughness will continue till this evening.
-Swipan Kishore Singh, SP Countryside Roorkee
read ahead
The traveler kept on honking

www.amarujala.com