Highlights:
Bihari Singh Baghi, a prominent leader of workers and farmers, died in Noida
Angry at getting tickets, rebels carried a lion to Indira Gandhi's rally
Independents fought elections twice, Election Commission gave lion election symbol
Virendra Sharma, Noida
Chaudhary Bihari Singh Baghi, a veteran leader of the country's farmers and laborers, died in Noida on Sunday at the age of 78. A wave of mourning raged in the district after his death. In 1974, angry at not getting a ticket from the Congress, Bihari Singh Baghi reached the lion's rally of former Prime Minister Indira Gandhi in Dadri. There was chaos in the crowd on seeing the lion. At the same time, former PM Lal Bahadur Shastri was also considered his good friend. Rebels were also fired at, but they narrowly survived the attack.
Born in Rupbas village in Dadri, Bihari Singh was a rebel Congress leader. In 1974, he contested as an independent from Dadri assembly for the first time. Actually, at that time the Congress had split into two factions. The big leaders of the state got divided into Congress (O) and Congress (I). After getting tickets from both the parties, he got angry with Indira Gandhi and announced to contest the elections independently. During that time the issue of land acquisition was important. Bihari Singh became famous for the battle of rebel farmers. His identity had emerged as a stubborn peasant leader.
Rent a lion for 500 rupees and…
Angered by the Congress, Bihari Singh Baghi contested elections for the first time in 1974 and for the second time in 1991. Although defeated, but the hearts of workers and peasants were engulfed. In the election of 1974, Bihari Singh Baghi was allotted election symbol Lion by the Election Commission. Chaudhary Tej Singh from Congress (O) and Vishambhar Dayal Sharma of Socialist Party were in the fray. However, the strongest candidate among them was considered to be Congress candidate Ramchandra Vikal. Meanwhile, Indira Gandhi's rally was decided at Mihir Bhoj College in Dadri. Bihari Singh Baghi, who had revolted from the party, bought three army jeeps and started campaigning. Those days a circus was going on in Ghaziabad. The rebel hired a lion for 500 rupees and brought a lion in Pizre at Indira Gandhi's rally. There was also a rumor that they would leave by bringing lions, which caused the crowd to disperse.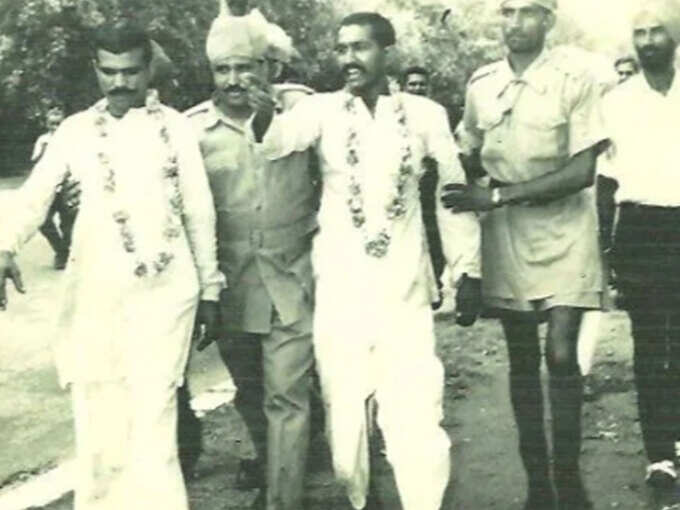 Students were active in politics, rebels became like this
Bihari Singh Baghi, who was active in student politics, was also considered a good friend of former Prime Minister Lal Bahadur Shastri. Actually, Shastri was also aware of his stature at that time because of the farmers and laborers movement. With the fight of the workers and peasants and rebelling against the Congress, his name was rebelled. At that time, they became famous in the region as Chaudhary Bihari Singh. Bihari Singh's son Yatendra Kasana said that in 1992, Bihari Singh Baghi, who was going to take part in the Kisan Rally, was also fired near Dari Macha village in which he was badly injured.

navbharattimes.indiatimes.com