Highlights:
Social distancing and masking may be required even after the corona vaccine arrives
In KGMU's webinar, ICMR director Prof. Balaram Bhargava said this
We will have to be careful even after vaccination, the third phase trial is going on
Lucknow
Even after the corona vaccine arrives, social distancing and masking may be required. In the KGMU webinar on Kovid Management on Saturday, ICMR Director Prof. Balaram Bhargava has said this. He said that even after vaccination, we have to be careful. He said that the third phase of the vaccine trial is going on. Vaccination will begin soon, but for how long protection will be available, it is not known yet.
He said that it is not necessary that every citizen has to be vaccinated. It is important for us to break the transition chain. For this, 300 million people have been targeted for vaccination by July.
Two to three doses have to be given
Dr. Bhargava said that all the vaccine trials are going on, two to three doses of vaccine will have to be given. It will take three to four weeks. If the vaccine does not work, a booster dose may also have to be applied. However, India will not only be able to produce vaccines for 60 per cent of developing countries. There will be work in 24 manufacturing stabilization of 19 companies.
Five vaccine leads
According to Dr. Bhargava, ICMR's India is undergoing vaccine trials with Biotech and Zydus Cadila, while Russia's Sputnik and the US biological e-vaccine are being trialled in India in foreign vaccines.
Three vaccines, three cities
Prime Minister Narendra Modi visited three cities on Saturday to take stock of the Corona virus vaccine. The PM first went to the pharmaceutical company Zydus Cadila near Ahmedabad. During this time he was wearing PPE kit. Modi tweeted that he visited the Zydus Biotech Park in Ahmedabad and learned more about the DNA-based indigenous vaccine being developed by Zydus Cadila.
The PM said that the Government of India is actively working with him to support this journey. Zydus Cadila has developed a potential vaccine called Zykov-D. The company started testing its second phase in August. After Ahmedabad, PM went to Hyderabad-based vaccine company Bharat Biotech. Phase III trials of the potential vaccine covaxin developed by Bharat Biotech are underway. The PM also visited the Serum Institute of India (SII), Pune. SII has partnered with global pharmaceutical manufacturer AstraZeneca and Oxford University for the Kovid-19 vaccine.
Box will be made to hold vaccines, agreement with Luxembourg
Luxembourg Prime Minister Xavier Bettel has proposed to the Government of India to set up a refrigerated transportation plant. According to reports, PM Modi has accepted this proposal. This plant will be set up in Gujarat, which will make it even easier to provide vaccines to every village of the country. Official sources said that the Luxembourg-based company is also sending a high-level team to Gujarat next week.
Somewhere work for 5 days, then there was a night curfew
All offices in Himachal Pradesh will work 5 days a week. Not more than 50 will be able to attend all kinds of public functions. Failure to wear a mask in Kullu will be accompanied by a fine of up to Rs 5000 and a fine in Sirmour for 8 days. In view of the increasing cases of corona in Uttarakhand, the Dehradun administration has decided to keep Sunday closed shops where essential items are not sold. It has announced to impose night curfew in Manipur by 31 December, which will be effective from 6 pm to 4 am.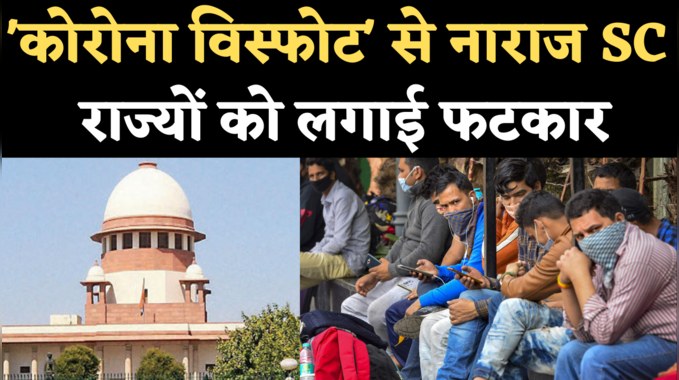 Supreme Court on Coronavirus: Supreme Court reprimanded states on 'Corona explosion'

navbharattimes.indiatimes.com