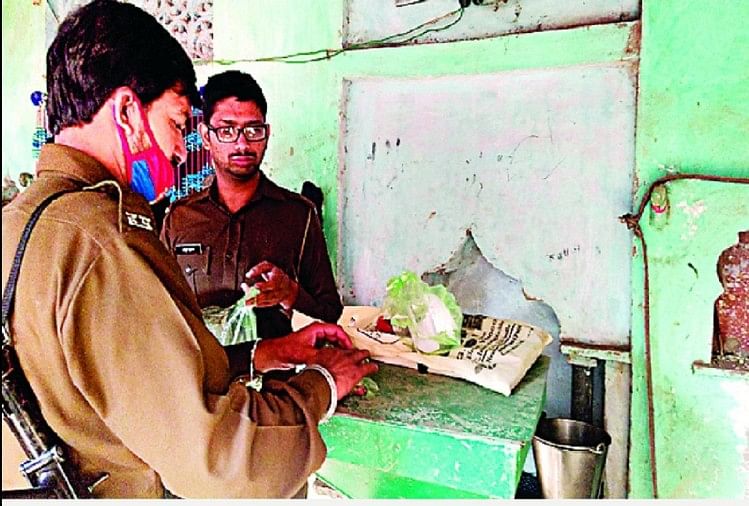 India News
Woman Tried To Commit Suicide After Killing Four Innocent Daughters In Nuh Of Haryana
On November 28, 2020 by admin
Police investigating
– Photo: Amar Ujala
In Pippauli village of Punhana block of Nuh district, a woman slaughtered her four innocent girls with a knife. He tried to commit suicide by cutting his throat. The injured woman has been admitted to Shaheed Hasan Khan Medical College Noonh.
On the basis of preliminary investigation, the police have registered a case of murder against the woman and sent the bodies to Al Aafia Hospital in Mandikheda for postmortem. Police have recovered the knife used in the incident from outside the house.

Punhana police station in-charge Santosh Kumar said that Khurshid, a resident of Piprauli, works as a laborer. He complained that he was not at home on Thursday night. His wife Farmeena and four daughters Muskan (7), Miskina (5), Alshifa (3) and Rukasana (6 months) were alone at home. It is alleged that in the night, Farmeena murdered all the four girls with a knife and later tried to cut her throat with the intention of suicide. Khurshid reached home at around half past three in the night.
He knocked on the door, but no one opened. When he peeped inside the room from the door, he saw that the four daughters were lying on a bed covered with blood and Farmeena was suffering. When Khurshid made noise, the people around reached the spot.
Handled the injured by breaking the door. All four girls were dead while Farmeena was breathing. He was immediately rushed to the hospital. After this, the police was informed at around five in the morning. Nuh Police Captain Narendra Bijarnia and Vivek Chaudhary, DSP of Punhana reached Pipprauli with the police force.
The bodies were rushed to the hospital for postmortem. Samples have been sent from the spot for investigation. The reasons for the incident will be revealed only after the report comes and the woman's statement.
Tired of being handed over from first husband to daughter
Khurshid says that his wife Farmeena had a daughter from her first husband, who had been living with him for nearly ten years. On November 12, he was handed over to his family members. Due to this his mental state was weakened. Due to this, he has tried to commit suicide by killing all four daughters.

www.amarujala.com