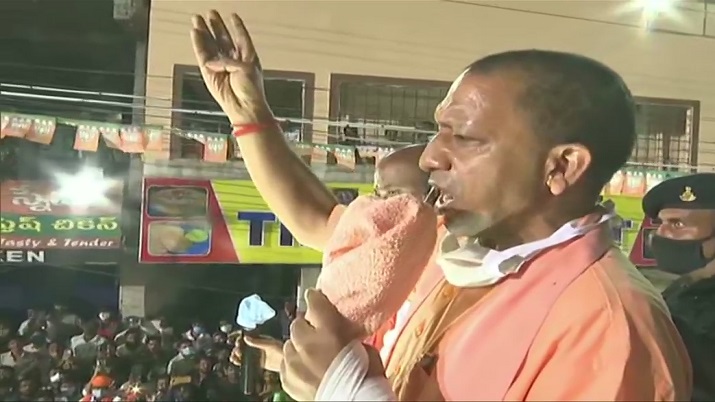 India News
UP CM yogi Adityanath in hyderabad aimim asaduddin owaisi municipal elections election. Yogi said in Owaisi's citadel – why the ancient name of Hyderabad cannot be Baghnagar
On November 28, 2020 by admin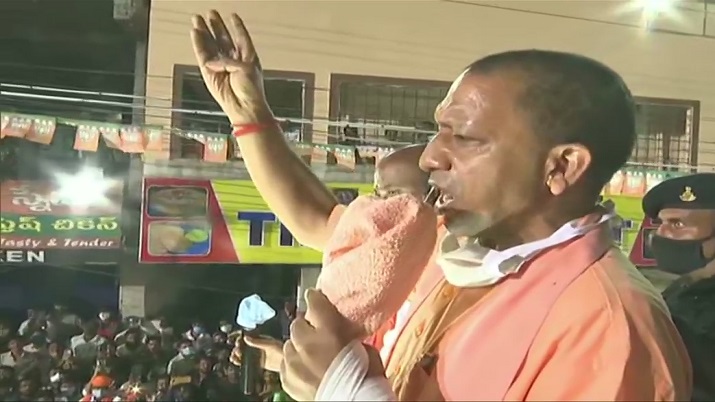 Hyderabad Before the civic elections 2020 in Hyderabad, Uttar Pradesh Chief Minister Yogi Adityanath on Saturday targeted AIMIM fiercely. CM Yogi while addressing a public meeting after the roadshow said that targeting AIMIM president Asauddin Owaisi said that a nefarious alliance of TRS and AIMIM has formed, it is hindering the development of here (Hyderabad). Every citizen, businessman here is upset. The people who have been in the government and corporation here have nothing to do with the development and basic amenities of the people.
Chief Minister Yogi Adityanath said during the road show in Malkajgiri that we named Faizabad as Ayodhya. We named Allahabad as Prayagraj. These are symbols of our culture. So why can't the ancient name of Hyderabad be Baghnagar. The whole of Hyderabad appeared saffrony with CM Yogi's roadshow and public meeting. During this time, the song 'Jio Re Bahubali' from the superhit film Bahubali also played in the road show. CM Yogi received a rousing reception at the stronghold of AIMIM President Asauddin Owaisi in Hyderabad, Telangana.
AIMIM MLAs living in India do not take name of Hindustan- Yogi
CM Yogi, while referring to the swearing in of the AIMIM MLA won in Bihar, strongly targeted Owaisi, saying that the AIMIM MLA who won in Bihar refused to name Hindustan during his swearing-in. Those who live in India do not take the name of India in their oath. This incident shows what the real face of Owaisi's AIMIM is. CM Yogi Adityanath on Saturday held a road show in favor of Bharatiya Janata Party candidates in the civic elections (Greater Hyderabad Municipal Corporation) in Jedimetla, Hyderabad, Telangana capital. Nationalist slogans continued to echo during the road show and people were also showering flowers on the roofs of houses on Chief Minister Yogi Adityanath.
Yogi said, "We all have to decide whether to give freedom of plunder to a family and a friend group or to take Hyderabad to Bhagyanagar to new heights of development. Friends, you have to decide. "He said," I know that on one hand the government here is plundering the people with the public, while on the other hand, BJP is harassing AIMIM workers under the pretext of AIMIM. To fight a new war against these people and to walk step by step with you, I have come here from the land of Lord Shri Ram. "During the election campaign of Hyderabad Municipal Corporation, Chief Minister Yogi Adityanath said that the Prime Minister Home Minister Amit Shah, led by Narendra Modi, abolished Article 370, giving the people of Telangana and Hyderabad complete freedom to buy land in Jammu and Kashmir.
During the road show of CM Yogi, 'Aaya Aaya Sher Aaya …. Ram Laxman Janaki, Jai Bolo Hanuman Ki', Yogi-Yogi, Jai Shri Ram, Bharat Mata Ki Jai and Vande Mataram's gargantuan slogans were raised. CM Yogi garlanded the statue of constitution builder Babasaheb Bhim Rao Ambedkar before the roadshow. He then boarded the bus for a roadshow. During this, CM Yogi accepted the greeting by making a Victory Sign and folding his hands. Let us know that in view of the Greater Hyderabad Municipal Corporation election on 1 December 2020, voting will be held.
Let me tell you, for the first time, the BJP is fighting so strongly for the election of Greater Hyderabad Municipal Corporation. The election here is being considered between BJP and TRS. Congress has become the third party. Political experts believe that BJP will win good seats here. The Greater Hyderabad Municipal Corporation is spread over 24 assembly seats and its annual budget is around five and a half thousand crores. A large part of Telangana's GDP comes from here.
Yogis campaigned in a dozen states
Earlier, the demand of Chief Minister Yogi Adityanath comes from different states of the country. He has so far campaigned in favor of BJP candidates in the assembly elections of Kerala and Karnataka, Tripura, Himachal Pradesh, Rajasthan, Gujarat, Manipur, Madhya Pradesh as well as Bihar and Delhi.



www.indiatv.in