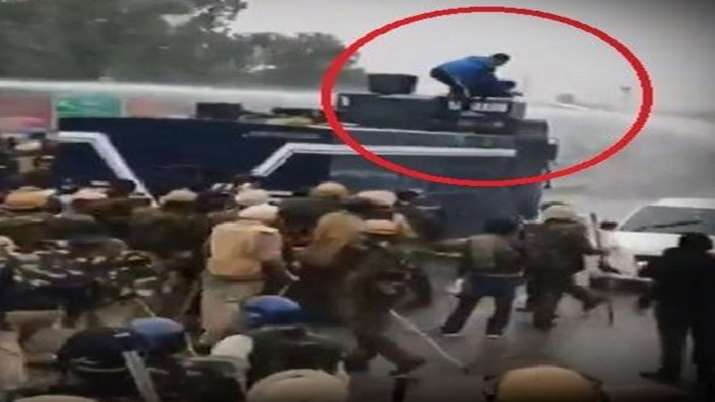 India News
Farmers protest: Navdeep Singh, who turned off water cannon, charged with 'attempt to murder' – case of attempt to murder on farmer who closed water canon in Haryana
On November 28, 2020 by admin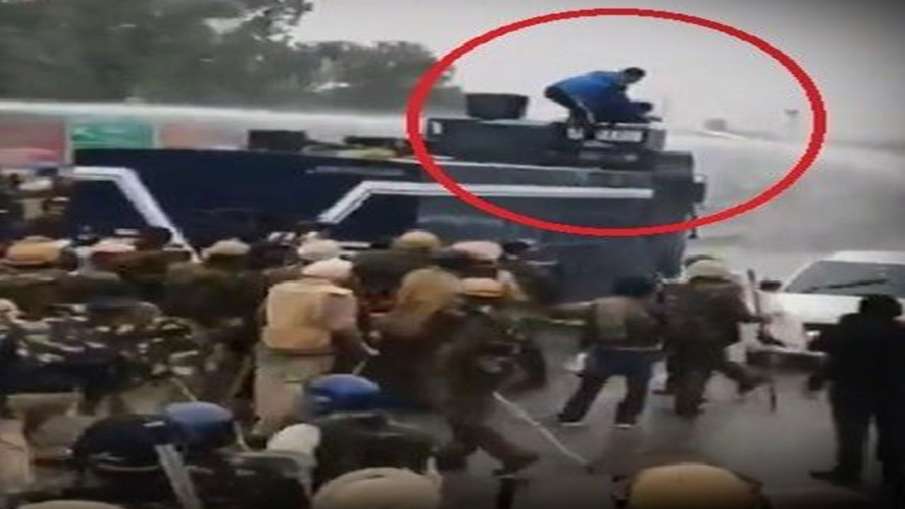 new Delhi: The Haryana Police has registered a case of attempted murder on 26-year-old farmer Navdeep Singh, who had closed the water canon. Police were taking water cannons from the water canon to disperse the farmers. A video of Navdeep's 'courageous' work has gone viral on social media. The incident took place on 25 November when hundreds of farmers were trying to remove these obstacles from the road blocked by huge boulders, barbed fences and mud dunes, so that they could reach Delhi and protest against 3 new agricultural laws. .
A case of attempt to murder has been registered against Kisan Navdeep Singh and Bharatiya Kisan Union State President Gurnam Singh Chaduni. The police have accused them of breaking the police barricade and attempting to drive a tractor-trailer on the policemen at Paro police station in Ambala district.
Haryana Police on Thursday, including Navdeep Singh, State Farmers Union (BKU) state unit chief Gurnam Singh Charuni and other farmers for attempted murder, rioting, obstructing government duty and other charges during the 'Delhi Chalo' march Has registered a case. Sections 307 (attempt to murder), 147 (rioting), 149 (gathering illegally), 186 (obstructing government work of public servants) and 269 (on complaint of head constable Pradeep Kumar at Parav police station) on 26 November A case was registered under the threat of spreading the disease to others (doing careless work like risking the lives of others) as hundreds of farmers had gathered on GT Road near Ambala Cantonment to go to Delhi.
Charuni and several other unknown farmers have been named in the FIR. The FIR stated that Deputy Superintendent of Police Ram Kumar, who was heading the police team at the scene, prevented Charuni from proceeding but he refused. It states that Charuni and other farmers broke the police barricades with the help of their tractors.
According to the FIR, some police officers escaped, otherwise they could be trampled by tractor heading towards Delhi. They are also accused of violating guidelines related to the Kovid-19 epidemic. A case has also been registered in Panipat against some farmers of Punjab for breaking the police barrier and other charges.
Rajvir Singh, in-charge of Sector 29 Police Station, Panipat, Sector 29, said over the phone, "A case has been registered under section 188 (disobeying order given by public servant) of Bhadanson, Disaster Management Act, 2005 and other provisions. is." Two days ago, Haryana Police Chief Manoj Yadav said that his force worked very patiently. The protesters threw stones at several places.
The DGP had issued a statement saying that not only a large number of policemen were injured in the entire episode, but also the police and private vehicles were damaged. Prohibitory orders have been imposed under Section 144 of the CrPC in many parts of Haryana to prevent protesters from gathering. Farmers are demanding withdrawal of new agricultural laws. He says that the new law will end the system of minimum support price (MSP).



www.indiatv.in