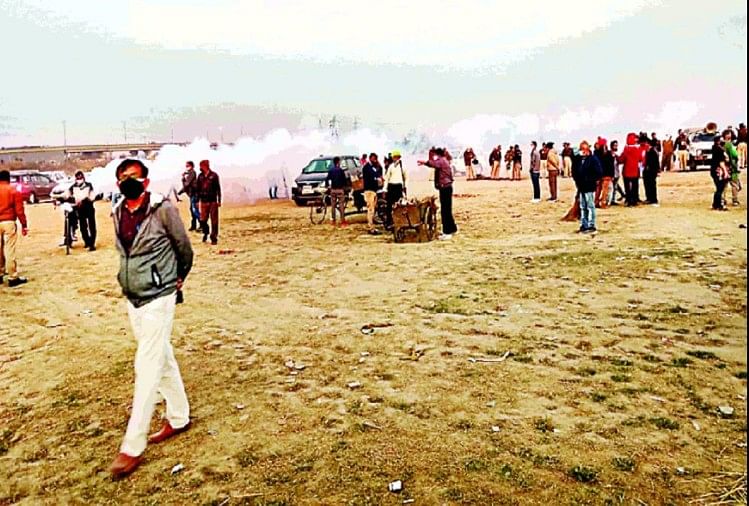 India News
Delhi Government Made Arrangements for Agitating Farmers in Burari – Delhi Government made arrangements for farmers in Burari, now the agitators will stay in the capital
On November 28, 2020 by admin
News Desk, Amar Ujala, New Delhi
Updated Sat, 28 Nov 2020 06:40 AM IST
Fogging was done for the arrangement of farmers in Nirankari Maidan of Burari …
– Photo: amar ujala
The Delhi government on Friday welcomed the protesting farmers as 'guests' and made arrangements for their food, drink and shelter. Thousands of farmers from various entry points of the national capital have been allowed to enter and protest in a peaceful manner against agricultural laws in the plains of North Delhi. Meanwhile, agitating farmers have bluntly said that they will remain in Delhi till the demands are met.
Meanwhile, some representatives of farmers visited Nirankari Samagam Ground in Burari along with other police officers. Deputy Chairman of Delhi Jal Board Raghav Chadha said that they have made arrangements for drinking water at the concerned site on the instructions of Chief Minister Arvind Kejriwal.

On the other hand, Revenue Minister Kailash Gehlot has directed the district officials of North Delhi and Central Delhi to make suitable arrangements for farmers' shelter, drinking water, mobile toilets as well as in view of cold months and epidemics.
On Friday evening, on a part of the National Highway on the Singhu border, farmers prepared a large kitchen and prepared food after a day-long tiring demonstration. However, even though the police have allowed them to go to the national capital, they are refusing to go to Nirankari Maidan in Burari.
The farmers have been told that they can continue the protest in the respective ground against the agricultural laws of the central government, while some farmers say that they are waiting for the trapped farmers in Haryana. Many farmers say that they either want to go to Ramlila Maidan or go to Jantar-Mantar for demonstration.
Earlier, the farmers who had left for the Delhi March, after violent clashes on the Singhu and Tikari borders on Friday, at around 2.30 pm, Delhi Police allowed them to come to Nirankari Maidan in Burari, North Delhi for a peaceful demonstration. However, not all farmers associations agreed. About 300 farmers reached Nirankari Maidan from the Tikari border, but the situation was tense due to the large number of farmers staying on the Singhu and Tikari borders for the night.
In such a situation, it will be decided on Saturday whether the farmers reach Nirankari Maidan or not. Earlier, the police fired tear gas shells and splashes of water on both sides of the stones at the stones. In this, 3 policemen including one ASI were injured, while some farmers were also reported injured. Police detained 89 farmers.

www.amarujala.com