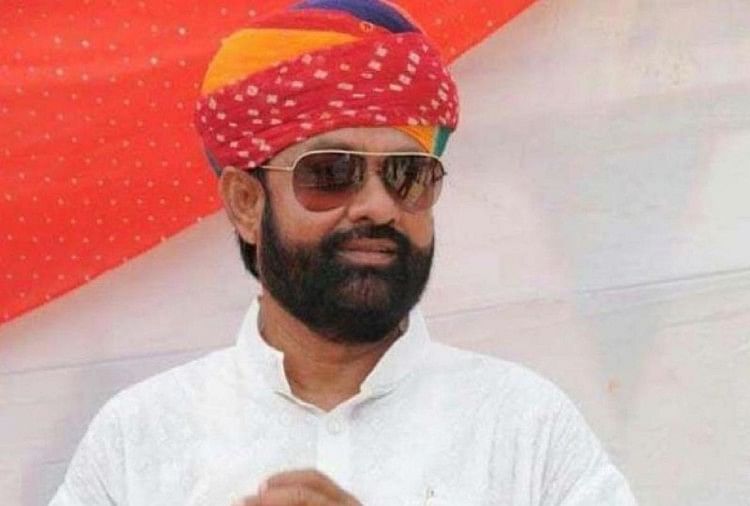 India News
Congress Mla Mahendrajit Singh viral video about two Btp Mla, Bjp Targets on Congress – Rajasthan: Congress leader Mahendrajit Singh badly trapped in horse trading case, video goes viral
On November 28, 2020 by admin
In Rajasthan, Congress MLA Mahendrajit Singh Malviya has heated up the politics of a video talking about horse trading. Opposition party BJP has become aggressive on this issue. In this video, Mahendrajeet is seen talking about horse-trading.
This video of Mahendrajit Singh Malaviya, MLA from Bagidaura, is being told of 25 November. In this, Malaviya is seen in Mundri Panchayat of Anandpuri, Banswara, saying that both the BTP MLAs of Dungarpur have taken Rs 10 crores.

Rajasthan BJP state president Satish Poonia tweeted this video. Satish Poonia said on this issue that if we speak then you will say that he speaks. Yes, please throw light on 'horse purchase' or 'goat mandi' in your words. During the Rajya Sabha elections, Rs. 5-5 crores and at the time of political crisis on the government has also taken Rs. 5-5 crores. Malaviya further says in this video that if someone gives me ten crores, then I will go home quietly. But both the BTP MLAs have realized the fun by eating money.
Former BJP state president targeted
At the same time, former state president Dr. Arun Chaturvedi is an attacker on the Congress government regarding this viral video. He said that the Government of Rajasthan is engaged in the work of horse trading. The goat is engaged in buying goods in the market.
In order to save their power, the Congress party had put the market of MLAs in it, the buyer is also the Congress party and it is also for sale. Arun Chaturvedi exhorted the Chief Minister to first look inside himself and then handle his house instead of accusing others.
Union Minister Gajendra Singh Shekhawat also targeted
At the same time, Union Minister Gajendra Singh Shekhawat also targeted Chief Minister Gehlot with this. Shekhawat tweeted on Saturday that the Gehlot government is playing with democratic values ​​and public opinion and it is not hidden from anyone, but now it is clear from the acceptance of the party's senior MLA Mahendrajit Singh Malviya in front of the general public that Chief Minister Gehlot Has no right to continue in his position.
Shekhawat wrote in another tweet that the confidence vote obtained by the state government in the Legislative Assembly through the purchase and sale of MLAs was actually a deception made by the public, similarly the victory of the Congress candidate in the Rajya Sabha election is also doubtful. Malaviya and BTP MLAs Ramprasad and Rajkumar Rota are yet to be contacted about this alleged video and Malaviya's statement.

www.amarujala.com