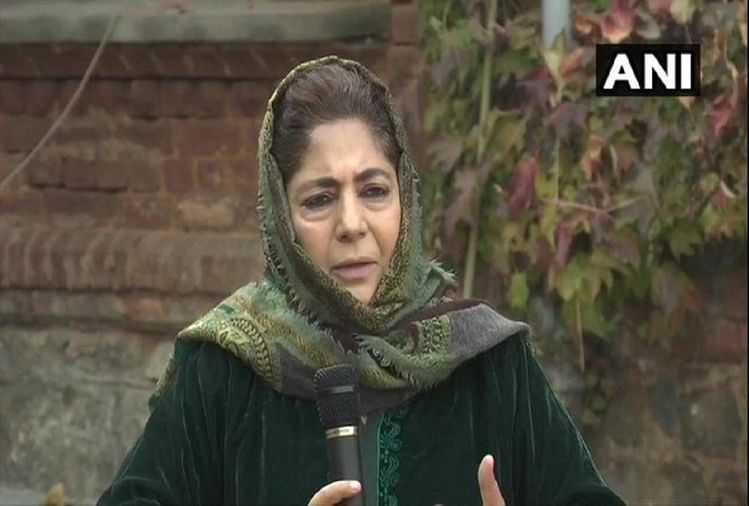 India News
After We Decided To Participate In Ddc Election The Degree Of Oppression Has Increased Says Mehbooba Mufti – I do not understand if everyone is a terrorist, only BJP people are real Hindustani: Mehbooba
On November 28, 2020 by admin
Former Jammu and Kashmir Chief Minister and PDP chief Mehbooba Mufti has given a big statement regarding the state's much talked about scam. On Sunday, he said that Roshni was a scheme, but it is now being presented as a scam.
He said that ever since we decided to participate in the election of District Development Council, we are being harassed more. Restrictions are being imposed on PAGD candidates. They are not being allowed to go out for campaigning. In such a situation, how will our candidates be able to contest elections?

After we decided to participate in #DDCElection, the degree of oppression has increased in Jammu & Kashmir. Candidates of PAGD are confined & are not allowed to go out for campaigning. How candidates will contest if they are not allowed to canvass?: PDP chief Mehbooba Mufti pic.twitter.com/BBnvE2G1Ny

– ANI (@ANI) November 29, 2020
Taking a dig at the BJP, Mehbooba said that they call Muslims as Pakistanis, Sardars as Khalistani, social activists as Urban Naxals, and students in small pieces as gangs and traitors. I do not understand that if everyone is a terrorist then who is Hindustani in this country? Only Bharatiya Janata Party workers? Till the issue of Kashmir is not resolved, the problem will remain. Until the government re-enacts Article 370, this problem will remain. Ministers will keep coming. Merely holding a general election like this is not a solution.
Mehbooba alleged that now they are targeting me. They want to ban my party, because I raise my voice. I am constantly being told that since my release, discussion on Article 370 has started. What can I do with it? Mehbooba said that I think the BJP wants to set up a system of its own, where there will be no place for democracy.



www.amarujala.com