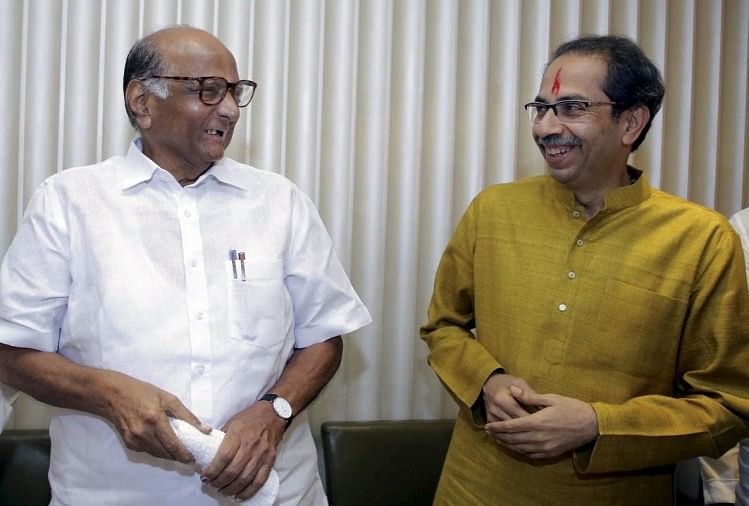 India News
Uddhav Thackeray and Sharad Pawar Completed One Year Term of the Maharashtra Government – Maharashtra: Thackeray-Pawar pair's feat, government completes one-year term
On November 27, 2020 by admin
Sharad Pawar and Uddhav Thackeray
– Photo: PTI
The Mahavikas Aghadi (MVA) government of Maharashtra is going to complete its one year on Saturday. There were constant speculations about the stability of this government. There was speculation that the Thackeray government would not be able to complete its one year. But despite all the efforts of the BJP, Uddhav Thackeray's hold on power remained strong. The pair of Thackeray and Pawar did this by running a mismatch coalition government.
Political analysts believe that the credit for completing the one-year term of the three-party Mahavikas Aghadi government in Maharashtra goes to Chief Minister Uddhav Thackeray and NCP supremo Sharad Pawar. However, reports of estrangement have also been in the discussion in this coalition government of Shiv Sena-NCP and Congress.
Not only this, there has also been a lack of co-ordination among the allies but due to their vested interests and political compulsion, the Thackeray government has not yet come to the fore. In this government of three parties, NCP was the biggest gainer while Congress suffered it at the political level. Bihar election is its hallmark. The alliance fulfilled the Sena's desire to become the Chief Minister. But the party had to compromise with the Hindutva ideology that the Shiv Sena has been known for.
Natural disasters increased government's troubles amid Corona epidemic

Maharashtra was the worst affected state in the country due to Corona epidemic. More than 18 lakh people got corona infected and over 46 thousand 800 people died here. Meanwhile, natural calamities such as cyclone Nisarg, East Vidarbha, Marathwada and floods in parts of western Maharashtra, presented tough challenges to the Thackeray government.
The chief minister did not leave the house. Therefore, they were accused of working from home. Compensation to farmers, Maratha reservation and exemption of electricity bill in lockdown etc. There were cases in which Thackeray government could not do anything other than populist assurance.
Murder of sadhus in Palghar and death of Sushant Singh become a sore throat
The case of the beating of two sadhus in Palghar and the death of actor Sushant Singh Rajput became a sore throat for Uddhav Thackeray. His son Environment Minister Aditya was named in the Sushant Singh suicide case. There were also attempts to drag Aditya into the Sushant case.
At the same time, Thackeray had to face the case of the arrest of journalist Arnab Goswami in a case of abetment to suicide and the demolition of part of actress Kangana Ranaut's bungalow in Bandra by Shiv Sena-led BMC.

www.amarujala.com