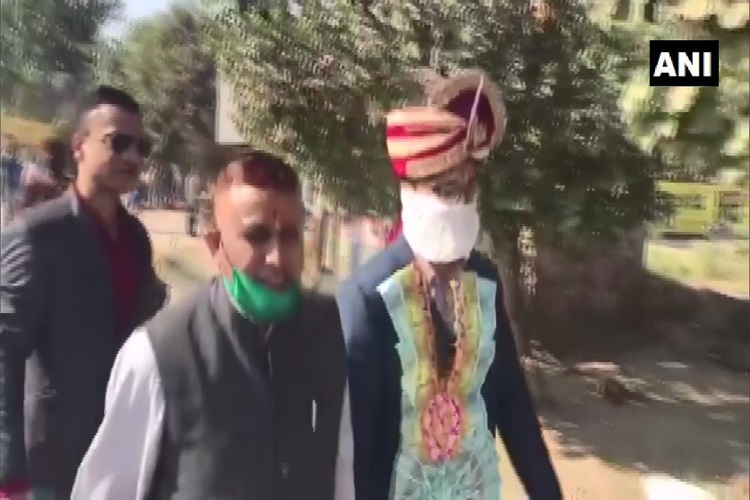 Meerut: Like the farmers of Haryana and Punjab, the farmers of Uttar Pradesh have also become a part of the nationwide protest against the agricultural law. Of western U.P. Meerut Farmers of the state are also moving towards Delhi, to prevent them, police have been deployed as a precaution on all the borders near Delhi and many roads have been closed. Due to the peasant movement, the general public is also facing many problems. Today, a groom had to bear the brunt of police barricades. The groom and the entire baraat had to walk on foot due to the closure of the road. Due to obstruction on the road coming from Meerut to Delhi, the groom and the entire procession party had to walk a long distance on foot by getting off the vehicles.
At the same time, let us tell you that Delhi Metro on Friday also announced the closure of the exit and entry gates at six metro stations on the Green Line in view of the 'Delhi Chalo' march by farmers against the new agricultural laws of the Center. DMRC tweeted, "Entry and exit gates of Brig Hoshiar Singh, Bahadurgarh City, Pandit Shri Ram Sharma, Tiki Border, Tikri Kalan and Ghevra stations on the Green Line have now been closed."
Delhi Metro officials had earlier announced that services to neighboring cities would be suspended on Friday. DMRC had said, "As per Delhi Police's consultation, metro services will be available only from Delhi towards NCR sections. Though services will not be available from Delhi from NCR stations for security reasons but will be available from Delhi towards NCR sections till further notice. " The Delhi Police on Friday fired tear gas shells to disperse a group of farmers who reached the Singhu border under the 'Delhi Chalo' march. Tear gas shells were fired at farmers at Narela on the border connecting Delhi and Haryana. Security has been tightened at the border and trucks and water tanks filled with sand are also stationed there.
Barbed wire has also been used to fence the Singhu border to prevent protesters from entering the city. The farmers of Punjab, representing more than thirty farmer organizations, had announced that they would proceed towards Delhi on the Laldu, Shambhu, Patiala-Pihowa, Pataran-Khanouri, Munak-Tohana, Ratia-Fatehabad and Talwandi-Sirsa routes. Tensions remain at all boundaries. Farmers have gathered on their tractor-trolleys with rations and other essentials for the 'Delhi Chalo' march. The Haryana government has also implemented Section 144 of CrPC in many areas to prevent farmers from gathering for demonstrations. Farmers are demanding withdrawal of new agricultural laws. He says that the new law will end the system of minimum support price (MSP).



www.indiatv.in