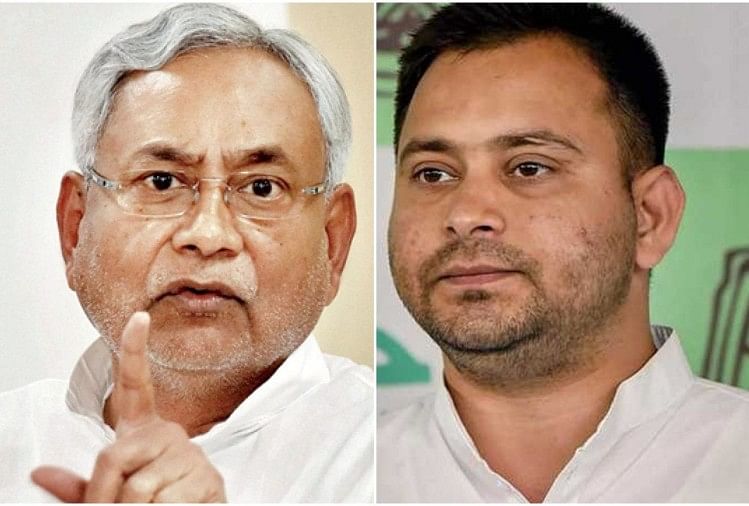 India News
Tejashwi Does Personal Attack On Nitish Says He Fear To Have Baby Girl Uproar In Bihar Assembly Bjp Jdu Rjd – Bihar: Was Nitish Kumar Afraid Of Having A Girl? Uproar in the house on Tejashwi's statement
On November 26, 2020 by admin
News Desk, Amar Ujala, Patna
Updated Fri, 27 Nov 2020 3:52 PM IST
Nitish Kumar-Tejashwi Yadav (File photo)
– Photo: PTI
There was a huge uproar in the Bihar Assembly when the Leader of Opposition and Rashtriya Janata Dal (RJD) leader Tejashwi Yadav made a personal comment on the Chief Minister of the state, Nitish Kumar. Amidst the din, Deputy Chief Minister Tarkishore Prasad called Tejashwi's statement as shameful. He said that such statements inside the House are shameful, they should follow decorum. There should be no such comment on the Chief Minister. This is the beginning of a wrong kind of tradition.
Tejaswi, who was seen during the election campaign, also continued inside the house. He made a personal comment on Chief Minister Nitish in the House. He said, 'Nitishji used to talk about Lalu's nine children in his election meetings. They used to say that daughter was not trusted. Nine children were born to the son. Did Nitish Kumar fear to have a girl, so he did not have a second child? I hope the Chief Minister is aware that the youngest child of my parents is a girl, who was born after two sons. '

The RJD has defended Tejashwi's statement in the House despite opposition from the ruling coalition. RJD leader Subodh Rai said that there should not be a personal attack, but if the other person does a personal attack, we will not be silent either. Tejashwi alleged that I was speaking about jobs. I bow before the people of Bihar who voted for us and helped us emerge as the largest party. But due to the manipulation of the officials, we did not get a chance to fulfill those promises.
On the other hand, expressing strong opposition to Tejashwi's statements, JDU leader Ghulam Rasul Balliavi has said that Tejashwi's statement inside the house is extremely shameful. BJP leader Sanjay Saraogi has described it as a disappointment for Tejashwi Yadav. He said that he was turning around as Chief Minister even before the stunning results. Now that Karari is in Frustration after facing defeat, Anap-Shanap is making a statement.

www.amarujala.com