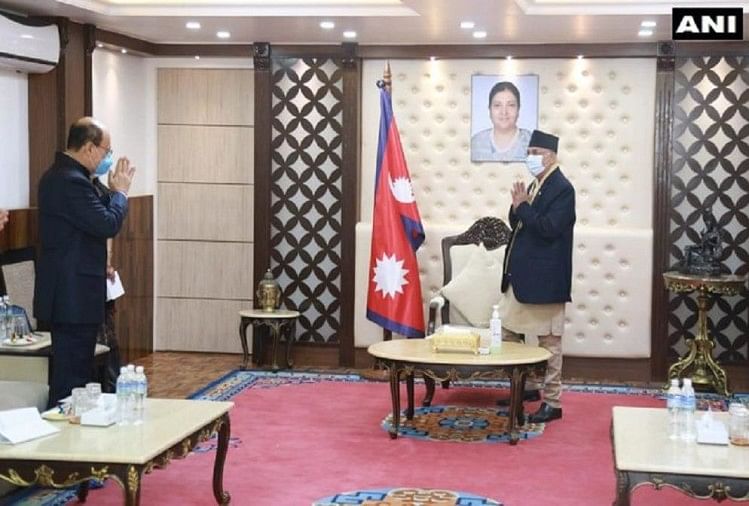 India News
Foreign Secretary Harsh V Shringla Arrives in Nepal for A 2-day Official Visit – Foreign Secretary Shringla met PM Oli of Nepal, agreed to increase mutual cooperation
On November 26, 2020 by admin
India's Foreign Secretary Harsh Vardhan Shringla meets Nepal's PM KP Sharma Oli
– Photo: ANI
A meeting was held on Thursday between India's Foreign Secretary Harsh Vardhan Shringla and his Nepali counterpart Bharat Raj Paudayal. During the meeting, India and Nepal agreed to work towards enhancing mutual cooperation. Shringla arrived here on Thursday on her two-day official visit to Nepal. Shringla, who arrived at the invitation of Nepalese Foreign Secretary Bharat Raj Paudyal, was warmly welcomed.
On behalf of the Indian Embassy in Kathmandu tweeted, 'Foreign Secretary Harsh Vardhan Shringla and Bharat Raj Paudayal had a positive conversation. During the meeting, they reviewed bilateral cooperation and discussed issues of mutual interest. In another tweet, the embassy said, "Both sides appreciated the progress made on various bilateral projects and initiatives. It was agreed to work towards enhancing mutual cooperation. '

At the same time, Shringla met the Prime Minister of Nepal KP Sharma Oli at his residence in Kathmandu. After the meeting, India's Foreign Secretary Harshvardhan Shringla said that we had a very productive and fruitful partnership. We have resolved a large number of issues through bilateral cooperation. This reflects the multifaceted and comprehensive nature of our cooperation. He said that both of us agreed on various steps to take forward some areas of cooperation. He further said that very good progress and some other initiatives can be seen on the commitments made by the leadership.
In addition, Foreign Secretary Harsh Vardhan Shringla on Thursday provided medical assistance to Nepal's Foreign Minister Pradeep Kumar Gyawali in the war against Kovid-19. The Foreign Ministry of Nepal gave this information. Please tell that Foreign Secretary Shringla has reached Nepal on his two-day visit.
At the same time, Foreign Secretary Harshvardhan Shringla also met President Vidya Devi Bhandari late in the evening.

Foreign Secretary Harsh V Shringla met Nepal President Bidhya Devi Bhandari at her official residence in Kathmandu, today. pic.twitter.com/PZ77mM7AQr

– ANI (@ANI) November 26, 2020
Shringla arrived at Tribhuvan International Airport on Thursday morning. He told local reporters, 'I wanted to come here earlier but could not come due to Kovid-19. I am very happy to be here. I have been to Kathmandu before, though this is my first visit to Nepal as Foreign Secretary. Our relations are very strong. It will be our endeavor to deepen this relationship further.
He said, 'I want to thank the Government of Nepal and the Foreign Secretary for this warm welcome. We are going to meet on important issues. My first meeting will be with the Foreign Secretary of Nepal and after that I will meet Foreign Minister Pradeep Gyawali. I will also meet dignitaries in Kathmandu. ' The Nepalese Foreign Ministry issued a statement this week, saying that the visit is part of the ongoing high-level dialogue between the two neighboring countries.
At the same time, on Friday, he will deliver a lecture on India-Nepal relations at Hotel Solti Crowne Plaza in Kathmandu and inspect three schools constructed with Indian assistance in Gorkha. Before the conclusion of the yatra on Friday, Shringla will hand over support material to the Nepalese government to compete with Kovid-19.
Prime Minister Narendra Modi had given an assurance to build fifty thousand houses in Gorkha, the epicenter of the 2015 earthquake, out of which construction of forty thousand houses has been completed. Shringla will also inaugurate a Buddhist monastery in Manang district on the Tibet border which has been reconstructed with the help of India.
Meanwhile, China Defense Minister General Wei Fengge is scheduled to visit Nepal shortly after Shringla returns to India. Sources in the Ministry of External Affairs gave information here. Wei is expected to arrive here on Sunday on a four-day tour, although an official date for the visit has not yet been announced.



www.amarujala.com