The Congress on Thursday bid farewell to its two strong leaders Ahmed Patel and Tarun Gogoi. Both leaders always stood firm for the party during all the ups and downs. Both leaders died due to complications related to Kovid-19.
Patel, who was a troubleshooter of the Congress in every difficult hour, died in a hospital in Gurugram on Wednesday and was handed over to his village Pirman in Bharuch district of Gujarat on Thursday. At the same time, former Assam Chief Minister Gogoi died on Monday and he was cremated in Guwahati.

Patel was 71 years old and Gogoi was 84 years old. Congress leaders and activists gathered in Pirman and Guwahati to pay their last farewell to both leaders. Both leaders were considered loyal to the Gandhi family and their loyalty to the party never waned. Congress leader Rahul Gandhi participated in the tadafin (burial) of the party's key strategist and troublemaker Patel. Patel's Mayyat (Parthiv Deh) was brought from Vadodara to Piraman. After this, Patel was handed over to the cemetery in the presence of hundreds of local and Congress leaders.
Rahul Gandhi reached Surat airport on Thursday and then went to Piraman by road where he met the family of the late MP at his ancestral house and comforted him. Congress chief Sonia Gandhi sent flowers to pay tribute to her former colleague.
Patel was offered his namaz-e-janaza before being delivered. According to Patel's wish, he was buried in the tomb of his parents.
Tarun Gogoi's last rites with state honors in Guwahati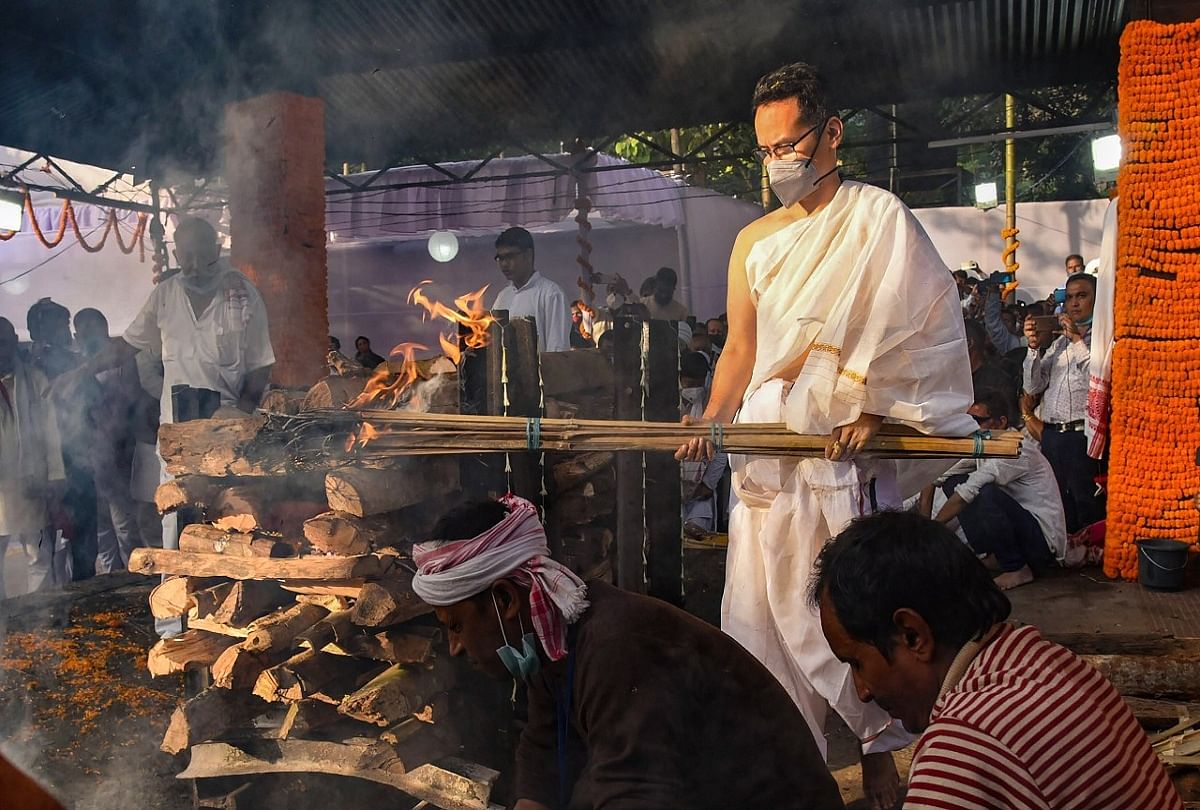 Funeral of Tarun Gogoi
– Photo: PTI
On the other hand, Tarun Gogoi was cremated at the Navagraha Shamsan Ghat in Guwahati, Assam. The chanting, the salute of guns by the Assam Police and the band's tunes, led to the burial of the former chief minister's body by his son Gaurav Gogoi.
Gaurav was wearing the traditional Chaleng Sadar (shawl) and dhoti at the time of Mukhagni and was wearing a mask on his mouth. Gauravai's wife Dolly, daughter Chandrima, daughter-in-law Elizabeth and other family members placed sandalwood sticks on the pyre before Gaurav's oblation.
Three-time Chief Minister of Assam, twice Union Minister and six-time Lok Sabha member, Tarun Gogoi died on Monday at the age of 84. He was struggling with health complications after Kovid-19.
According to the Vedic tradition, the last rites were performed and the Ahom priests also chanted. Sikh pantheons also prayed for him.
The state government had announced a half-day holiday from 1 pm on Thursday. The administration had arranged for 1,000 seats for people to sit in the crematorium ghat complex. Apart from this, hundreds of people gathered to watch the last farewell of their favorite leader through the LED screen outside. Many activists also came from Titabor assembly constituency. Gogoi represented this constituency four times.
His family members performed religious rites at the residence and offered him a final farewell. Congress general secretary and in-charge of Assam Jitendra Singh and several other leaders paid tribute to the late leader at his residence. In a letter to Tarun Gogoi's son and Lok Sabha member Gaurav, Sonia Gandhi said it was her personal loss.
Congress chief Sonia Gandhi said, 'Mr. Tarun Gogoi was the strong leader of the Congress. His exceptional intelligence, visionary vision and ability were respected by everyone. His views were considered by everyone, given his long experience as an MLA, MP, Union Minister and Chief Minister of Assam.
Congress leaders said that the death of Patel and Gogoi would miss the party and its leadership significantly.
read ahead
Tarun Gogoi's last rites with state honors in Guwahati

www.amarujala.com