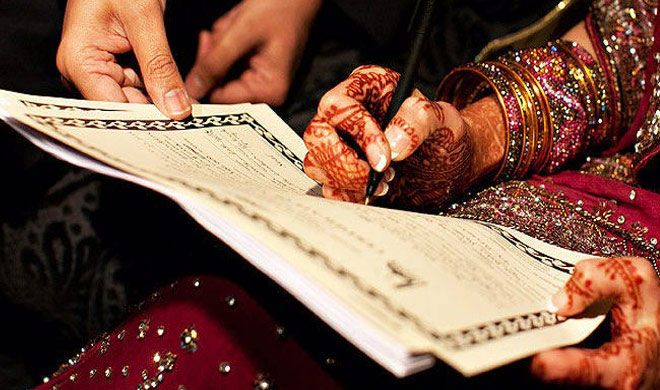 Bhopal: Law and Home Minister of Madhya Pradesh Narottam Mishra on Wednesday said that the BJP-led state government will bring the 'Freedom of Religion Bill-2020' in a three-day assembly session starting December 28 to enact strict laws against 'Love Jihad'. He said that by declaring 'Love Jihad' as a non-bailable offense, a provision of 10 years of rigorous imprisonment is being made for the main accused and its participants, while religious gurus, Qazi-Maulvi, clergymen who do such marriages. Will also be sentenced to five years.
Narottam Mishra told reporters here, "The draft of the Freedom of Religion Bill provides for a 10-year sentence for marrying for conversion by seducing and intimidating." – The religious guru, Qazi-maulvi, pastor who conducts the marriage will also be sentenced to five years. The registration of the institutions that conduct such marriages will also be canceled. "He said that such a marriage would be declared void after investigation. Please tell that Mishra is also the Minister of Parliamentary Affairs of Madhya Pradesh.
He said that he had a meeting with officials of Home and Law Department in the Ministry on Wednesday regarding the Freedom of Religion Bill -2020. In the meeting, he discussed the draft of the proposed law with Additional Chief Secretary of Home Department Rajesh Rajaura, Principal Secretary of Law Department Satyendra Singh and Additional Director General of Police Anvesh Mangalam and other officials. Mishra said that in this act, the offense will be cognizable and non-bailable.
He said that the accused has to prove himself that he has done this conversion without pressure, threat or seduction. He said that all those who cooperated in it would be treated as accused just like the main accused. Mishra said that the victims or their parents or siblings or guardians who have been forced to convert for action in this act can complain.
He said that one month before the marriage after conversion and conversion, the District Magistrate (Collector) will get permission from both the parties who convert and get married and submit an application in writing. He said that the registration of institutions or those who give 'donation' to such institutions for conversion or marriage will also be canceled.
Mishra told, "The draft has been prepared for this. In the cabinet meeting that will be held in the second week of December, we will put a draft of this bill. "He said," The bill will be brought in the assembly session which will be held from 28 to 30 December. " Explained, "It will not come as an ordinance. It will go to the cabinet and from there it will be brought in the assembly as a bill.



www.indiatv.in